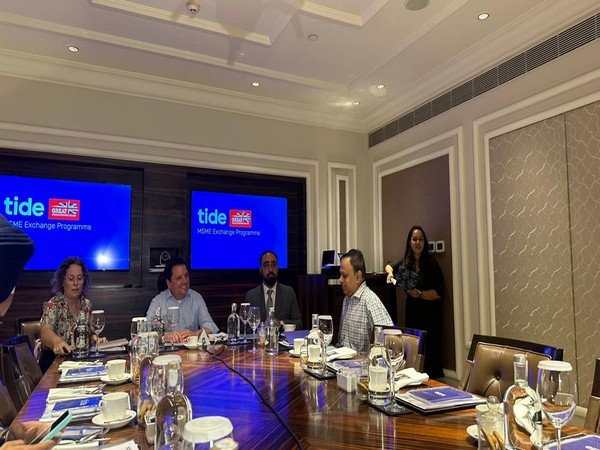 New Delhi [India], April 25: United Kingdom (UK) based leading business financial platform Tide kicked off an exchange programme in India on Tuesday with the aim to globalise entrepreneurship which will help to grow UK business in India and Indian business in the UK.
On the exchange programme, British High Commissioner to India, Alex Ellis said that it will boost businesses as well as the creation of jobs.
"Prime Minister Rishi Sunak and Prime Minister Narendra Modi have reiterated the huge opportunities that closer trade and investment ties offer to British and Indian businesses and consumers. Our investment relationship already supports nearly half a million jobs in each other's economies. Creating direct linkages between growing businesses from both countries will take us further. I congratulate Tide on adding to the India-UK success story," said Ellis.
Further Tide CEO Oliver Prill praised India and the Indian market and stressed that, "We are very enthusiastic about the Indian market and Tide is committed to championing small businesses and the MSME Exchange Programme is a huge step in this direction. We know that small business owners in India and the UK have shored ambitions, including exporting their goods and services between the two countries, which share historic ties. The MEP will deliver an exchange of ideas and know-how that small business owners from both countries can turn into concrete action."
The MSME exchange programme is an industry-first initiative by any fintech company working in India's MSME ecosystem. MEP will enable smaller entrepreneurs to widen and sharpen their business knowledge, and ultimately to grow their businesses.
MEP targets, new businesses and new digital micro-entrepreneurs in both countries. Tide aims to unlock opportunities for millions of existing and budding entrepreneurs, including those who might want to export to and from India and the UK.
On being asked about the finalisation of Free Trade Agreement (FTA) updates the Deputy Trade Commissioner Investment for South Asia, Anna Shotbolt said, "Negotiations in London are underway… two prime ministers spoke a weeks ago and we have to emphasise our commitments on FTA," she said.
On 10 February 2023, the United Kingdom and India concluded the seventh round of talks for an India-UK FTA.
Technical discussions were held across 11 policy areas over 43 separate sessions. They included detailed draft treaty text discussions in these policy areas.
The eighth round of negotiations is due to take place later this spring.