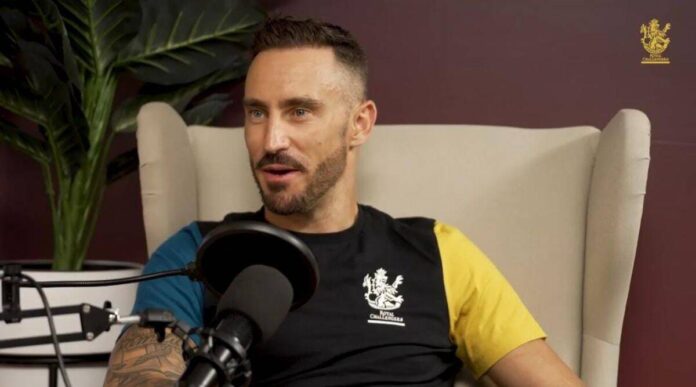 Faf du Plessis took over the captaincy of Royal Challengers Bangalore ahead of IPL 2022, and he had a lofty legacy to live up to.
In his first season as RCB captain, Faf displayed exceptional leadership qualities while guiding the team to the IPL Playoffs.
While speaking on RCB Podcast Season 2, the second of the 10 episodes, Faf disclosed his idea of captaining the side and what he has learnt from former IPL skippers.
"I think what was really good for me to go through was, even with all of that, the conviction that I am not going to be Graeme Smith as a captain, I'm not going to be Stephen Fleming as a captain, I'm not going to be MS Dhoni as a captain. In order for me to be true to who I am as a person, I need to be me. Because if you're not being you, then people will see through it, maybe not when you're doing well but definitely when you are under pressure, or underperforming, the real you will reveal itself," said Faf.
Speaking about what drove him to lead the team with a sense of purpose, he said, "I think as a cricketer, the moment that reaffirmed to me and told me that I belong at this level and I want to be at this level… was (the moment) like, you belong here. So that moment was from where, I was just like, this is what I want to do. Yeah, I became super purpose driven. After that, I became the Proteas, the Heartbeat if I could say that. I lived and breathed everything about Cricket South Africa.
"Then now at this next chapter in my life, I found this new purpose and especially now with RCB, as I said you've got something that really lights your desire inside you. Yeah, I want to do something special and then that gives you a new sense of purpose because I don't want to play just for the sake of playing. There's always something that drives me more than just the Rands or whatever," said Faf.
Faf was immense not just as a leader, as he led the RCB batting too from the front. Faf amassed 468 runs from 16 matches with 3 fifties including the highest of 96. In fact, Faf was seventh among the leading run-scorers of the IPL 2022.
However, Faf had to do that proverbial learning and unlearning while maturing into the role of a captain. For that, Faf credited the days he spent observing proven leaders such as former SA captain Graeme Smith and MS Dhoni and Stephen Fleming during his stint with the Chennai Super Kings.
"I always had this leadership perspective of learning from great leaders, it (leadership) was always something that I was fascinated about. When I initially came into the South African team, Graeme Smith was the captain. I was like, Wow, this guy's got an amazing presence when he speaks — like this big, blinding roar at you, and he just dominated the room while speaking. So I was like, that's a leader, right?," he said.
However, Faf was soon familiarised with an altogether different school of leadership, propagated by MS Dhoni at CSK when he joined the team in 2011.
"I got an opportunity to go to Chennai as a young-ish phase in my career. Stephen Fleming is one of the great leaders within the game, obviously, for New Zealand cricket also. The different aspect was him being a man manager, a guy who just works on relationships. And I go, Wow, that's impressive. During my first season at CSK, I was sitting next to him (Fleming) and just asked him questions about captaincy and leadership, just to learn as much as I can. And then you put MS on top of that, and you go, Wow, this guy's tactically odd to read the game like this. And you go, Okay, he is impressive as a captain.
About RCB Podcast, this is the second season of RCB Podcast, an initiative by the Royal Challengers Bangalore to open a window for fans into the bold world of their favourite cricketers.