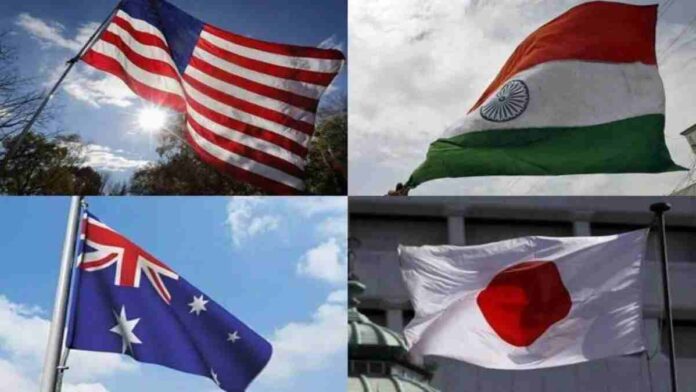 Ahead of the QUAD Leaders summit scheduled to take place in Australia later this summer, the foreign ministers of the four countries (India, Japan, Australia and the US) are scheduled to meet in New Delhi on March 3.
News is coming from Japan that their foreign minister Hayashi is headed to India to attend the QUAD Foreign Ministers meeting, however he will not be present at tomorrow G20 Foreign Ministers Meeting (FMM) in New Delhi under India's presidency.
The QUAD Foreign Ministers meeting is all set to take place on Friday for which Japan has given priority to Foreign Minister Yoshimasa Hayashi's presence here.
The foreign minister of Australia Penny Wong and the US Secretary of State Antony Blinken are already in New Delhi for the G20 FMM and thereafter will be present for the QUAD Foreign Ministers meeting. The US secretary of State is also participating in a panel discussion at the Raisina Dialogue in New Delhi.
Several important issues are going to be on the agenda during the QUAD FMs meeting including connectivity, review the concrete things done in the Indo-Pacific; Maritime Domain awareness, China's growing aggression in the South China Sea, Taiwan Strait, infrastructure projects, improving security, as well as Vaccine Diplomacy. There will be talks about the recent business and investment forum as well as QUAD Fellows.
Because of his involvement in the ongoing session of Diet (Japanese Parliament) Foreign Minister Hayashi was unable to participate in the G20 foreign ministers meeting taking place in New Delhi in which minister of state for foreign affairs Kenji Yamada is representing Japan.
According to reports coming from Japan, senior opposition lawmakers have said that the minister will not be asked to answer questions during the ongoing parliamentary session, thus paving way for Minister Hayashi's visit to New Delhi.
He will be here to join the other QUAD members for breakfast meeting on Friday.
India-Japan Bilateral Meeting
Minister Hayashi is also expected to have a bilateral meeting with external affairs minister Dr S Jaishankar tomorrow. During the meeting the two sides will focus not only on bilateral trade and investment and cooperation at multilateral forums but also enhancing defence and security ties.