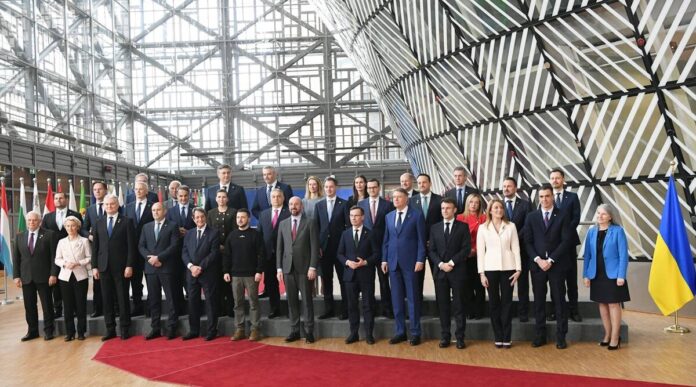 The European Union, after hectic last-minute haggling, has approved a tenth package of Russia sanctions on the anniversary of Moscow's invasion of Ukraine, the Swedish EU presidency said late on Friday.
"Together, the EU member states have imposed the most forceful and far-reaching sanctions ever to help Ukraine win the war," the presidency announced on Twitter. "The EU stands united with Ukraine and the Ukrainian people. We will keep supporting Ukraine, for as long as it takes."
The package includes tighter export restrictions regarding dual-use goods as well as measures against entities supporting the war, spreading propaganda or delivering drones used by Russia.
With two hours to go until midnight, EU member states made it across the finish line with little time to spare after Poland earlier threw a spanner into the works.
Warsaw said the proposed restrictions on EU imports of Russian rubber included such a big quota of imports exempted and such long transition periods that they would have no effect in practice.
Other EU countries were baffled that Warsaw — a leading Russia hawk in the bloc — was risking having no new sanctions announced on the one-year anniversary of Russia's attack against Ukraine over just one element of a broader package.
"This is very bad optics. What was supposed to be key here is a message of solidarity with Ukraine on this special day," said one diplomat involved in the confidential negotiations between the 27 EU countries in the bloc's hub Brussels.
All member states need to approve sanctions for them to be enacted, making negotiations among the 27 often tedious and lengthy.
The EU has said the 10th round of sanctions against Russia since the war started was designed to make financing the war more difficult and starve Russia of tech equipment and spare parts for arms used against Ukraine.
Measures were also meant to blacklist more individuals including what the West says are Russian propagandists, those Kyiv holds responsible for deporting Ukrainian children to Russia and those involved in the production of Iranian drones deployed on the frontline.
The package was also designed to cut off more banks including the private Alfa-Bank and the online bank Tinkoff from the global system SWIFT and cut trade between the EU and Russia by more than 10 billion euros, according to the bloc's executive.