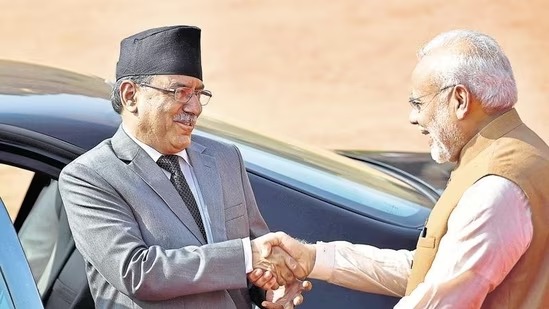 Nepal Prime Minister Pushpa Kamal Dahal congratulated Prime Minister Narendra Modi and the Indian Space Research Organisation on the successful landing of Chandrayan-3 on the surface of the moon on Wednesday.
Nepal PM took to his social media 'X', formerly known as Twitter, and said, "I congratulate Prime Minister Shri Narendra Modi ji and ISRO team of India on successful landing of Chandrayan-3 in the surface of the moon today and unleashing of a historic achievement in science and space technology."
Moreover, Nepal Foreign Minister NP Saud extended his greeting to India for the successful soft-landing of the Chandrayaan-3 spacecraft on the moon.
Saud took to his social media 'X' and stated, "Heartiest congratulations to India for successful soft-landing of Chandrayaan-3 spacecraft on the moon! This is not only a moment of national pride for our Indian friends but also an important milestone in the advancement of space science and technology, which ultimately contributes to making our lives better. @DrSJaishankar @ISRO."
People across the country were glued to their screens as India's third lunar mission made its way to the South pole of the moon and became the first country to do so.
Special prayers were held at temples, mosques and gurudwaras for the success of the mission which is crucial for ISRO's future inter-planetary endeavours.
Earlier in the United States (US), the Chandrayaan-3 mission's soft landing on the moon was telecast live on the ISRO website with students across the country watching the Automatic Landing Sequence (ALS) and history being made.
Sweets were also distributed at the Embassy of India as Chandrayaan-3 successfully landed on the Moon.
The Embassy of India in Washington, D.C. held a special screening of the Chandrayaan-3 as it successfully performed the soft landing on the moon today.
Apart from the embassy staff, the mission also invited some senior officials of NASA including NASA chief technologist AC Charania to witness the historic event.