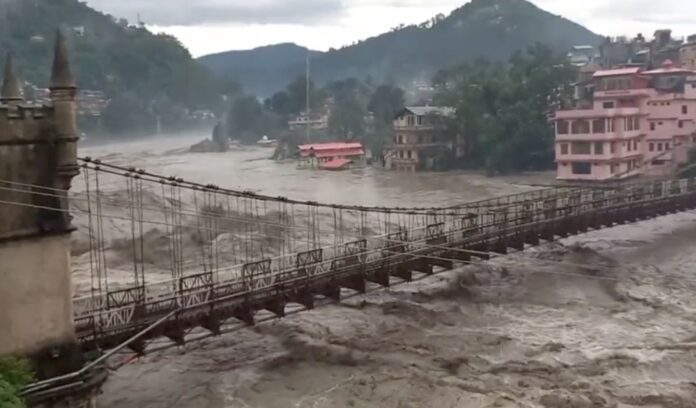 New Delhi: Incessant rains across north India have paralysed normal life, leading to at least 40 reported deaths, landslides, devastation and flood-like situations in even the biggest of cities, including the national capital.
As of the evening of Monday, July 10, the Times of India reported 17 deaths from the rains in Himachal Pradesh and 15 deaths in Jammu and Kashmir, Punjab, Rajasthan, Uttarakhand and Uttar Pradesh combined. News agencies reported one death in Haryana and the Hindu reported five deaths in Delhi.
Three deaths from UP, information provided by the state's relief commissioner that as of Monday afternoon, five people have died in the state due to "rainfall".
This is in addition to 29 other deaths in the state within the last day due to lightning and drowning, its report said.
Met office has predicted yet more rains for Himachal Pradesh, Uttarakhand, Punjab, Haryana, Jammu and Kashmir, Rajasthan, and Delhi and its adjoining areas, over the next couple of days.
Delhi
Delhi Chief Minister Arvind Kejriwal will hold a meeting today with senior officials of the irrigation and flood control department and the Municipal Corporation of Delhi to discuss water-logging and the Yamuna's rising water flow.
Delhi received 153 mm of rain from 8:30 am on Saturday to the same time on Sunday. This is the highest rain it has received in a single day in July since 1982.
With Haryana releasing water into the Yamuna at the Hathnikund barrage, the Delhi government issued a flood warning on Sunday. The Central Water Commission (CWC) said the water level in the river in Delhi is rising and is expected to surpass the danger mark of 205.33 metres on Tuesday, reports further told.
On Sunday, two people in the city died in separate instances of wall collapse, an autorickshaw driver died after a tree fell on his vehicle and two others died of electrocution. Five people were separately injured as well.
Pakistan
The rains have also affected water flow in the Chenab, Sutlej and Ravi rivers, sparking fear of floods in neighbouring Pakistan as well. Dawn has reported that 95 people have already had to be evacuated from the Ravi and Tawi basins. The country's National Disaster Management Authority estimates 9 lakh people will be affected by the rains.
"Currently around 75,000 cusecs of water was passing through the river, but the water level has been gradually decreasing", Naro­wal Deputy Commi­ssioner Mohammad Ashraf told Dawn. He added that no loss of life has been reported due to the high water level.
Himachal Pradesh
Chief minister Sukhvinder Singh Sukhu as saying that 17 people have died in the state in the last two days due to rain-related incidents.
The Met department has issued a red alert for "extremely heavy rainfall" in the state and warned of the possibility of lightning strikes on people and animals in open spaces.
A senior state government official told the Hindu that many of the state's districts received more rain on Saturday than they do on average in the entire month of July.
State authorities have ordered schools and colleges to remain closed for two days. As many as 765 roads have been closed, resulting in large-scale stranding.
"Twenty major landslides and 17 flash floods have been reported in the past 48 hours over 30 houses have been completely and partially damaged," a report said.
The news agency also reported that as of Monday afternoon, about 300 people were stranded across the state, while 20 others were rescued from the tourist town of Manali.
Footage uploaded on social media Show Rivers in spate, touching bridges.
Haryana
The 33-year-old man drowned while bathing in a natural pond. His cousin, a 20-year-old is also suspected to have drowned.
The Indian Express reported that the state saw more than 38.9 mm of rain in the first half of Monday, which according to Met department officials represented a 764% excess.
Its report also said that crop losses occurred in various districts of the state and that the government ordered a detailed assessment for all such areas.
Punjab
Amid a torrential downpour of rain in the state, officials in Patiala district have asked the army to remain on alert after the Sutlej-Yamuna Link canal experienced a breach in Rajpura town.
The Tribune reported that floodwaters also entered the Rajpura Thermal Power Plant, leading to the shut down of one of its 700 MW units.
Chandigarh, the joint capital of Punjab and Haryana states, received record rainfall on July 8 and 9. The city's meteorological department recorded 24-hour figures of 302.2 mm rainfall on the morning of July 9, the Indian Express reported, adding that this constituted the city's heaviest rainfall in living memory.
Due to the water in the city's Sukhna Lake rising above danger levels, both its floodgates were opened for the first time, and damage to pipelines from the rain will result in disrupted water supply to Chandigarh for a couple of days.
Uttarakhand
At least six people have died in Uttarakhand due to the rains. Two people died when a wall in their home collapsed, three people died when a car they were travelling in fell into a gorge, and a head constable died after being a rock fell on him from a hilltop.
Those who were rescued from the fallen car told the state's disaster response force that the driver was trying to avoid boulders falling on the road due to rainfall. Three others who were in the car are missing.
Rajasthan
According to a report, a student died after falling into an open sewage tank in Rajasthan's Sikar city amid heavy rainfall. State officials told the newspaper that the city of Ajmer was experiencing heavy water-logging.