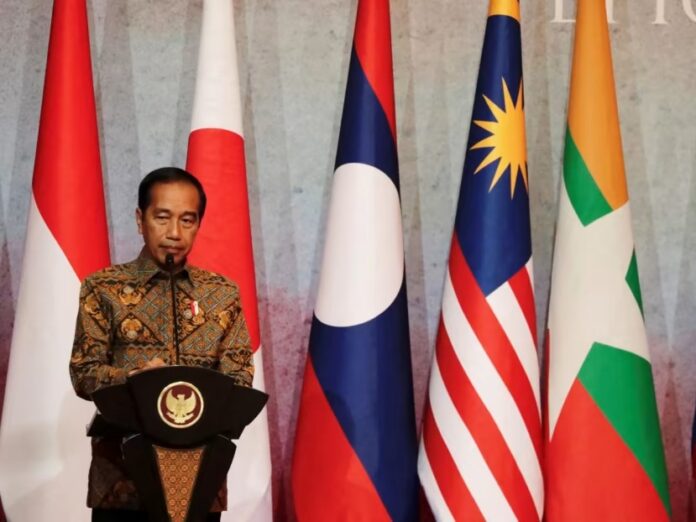 JAKARTA — Indonesian President Joko Widodo on Friday (July 14) said the Association of Southeast Asian Nations (Asean) cannot become a proxy for other countries, as US-China tensions rise over issues in the Asia-Pacific.
Foreign ministers from the Southeast Asian bloc have gathered in Jakarta for talks about regional issues from the disputed South China Sea, which Beijing claims almost in its entirety, to the crisis in Myanmar, where China is its junta's main ally.
Disagreements over the waterway have pitted some members of Asean against Beijing and boosted sympathy for United States (US) opposition to China's growing assertiveness. Others have backed Beijing.
"Asean cannot be a competition, it can't be a proxy of any country, and international law should be respected consistently," Mr Widodo told the ministers.
"We in Asean are committed to strengthening the unity and solidity as well as centrality in Asean to guard the peace and stability in the region."
Tensions between the world's two largest economies have soared in recent years over a host of issues, including China's drills around self-ruled Taiwan and sweeping US export restrictions on advanced semiconductors.
The Jakarta meetings have been joined by both China and the US, whose top diplomats met Thursday on the sidelines in the Indonesian capital.
US Secretary of State Antony Blinken warned China's Wang Yi of consequences after a cybersecurity breach blamed on China again threatened to undermine a nascent stabilisation of ties, a US official told AFP.
Mr Wang told Mr Blinken that the US should not interfere in China's affairs and "work with" Beijing to improve their relationship, according to the Chinese foreign ministry.
Asean has been divided on the Myanmar crisis and how to engage with its pro-China junta since the 2021 coup plunged the country into violent turmoil.
The bloc issued a much-debated communique on Thursday that repeated its condemnation of violence. It reiterated that a five-point peace plan agreed with the junta, but largely ignored since, must remain the basis for resolving the conflict.
Myanmar remains an Asean member but its rulers have been barred from top-level summits over a lack of progress on the plan, which aims to end violence and resume talks between the military and the anti-coup movement.
"The Indo-Pacific should not be another battleground. Our region must remain stable, and we intend to keep it that way," Indonesia's Foreign Minister Retno Marsudi told ministers at the start of an 18-nation East Asia Summit ministerial meeting on Friday.