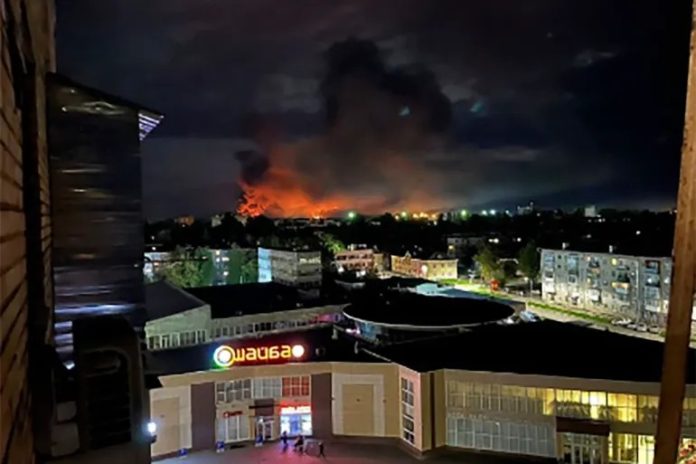 Ukrainian drones struck targets in at least six regions deep within Russia on Wednesday, including an airfield where they destroyed military transport planes, in one of the broadest volleys yet of Kyiv's campaign to turn the tables on Moscow.
Russian officials described attacks on targets in the Pskov, Bryansk, Kaluga, Orlov, Ryazan and Moscow regions.
In Pskov, in northern Russia more than 600 km (400 miles) from Ukraine, a huge fire erupted at a military airfield. Tass news agency reported at least four giant Il-76 transport planes were damaged, two of which had "burst into flames".
The attacks came as authorities in Kyiv reported at least two people killed in what they described as the heaviest Russian air strikes on the Ukrainian capital for months.
Footage published by Pskov's governor on Telegram showed a huge fire with the sounds of sirens and an explosion. Other video posted online showed anti-aircraft systems in action around the city, which is just 32 km (20 miles) east of Russia's border with NATO-member Estonia.
Moscow claimed to have thwarted all the attacks on Russia. Russia typically describes all Ukrainian drone strikes as unsuccessful, regardless of the damage on the ground.
There was no comment from Kyiv, which generally withholds comment on specific strikes on territory inside Russia but says it has a right to hit military targets in self defence.
Ukraine's Western allies generally forbid Kyiv from using weapons they supply to attack Russia but say Kyiv has a right to carry out such strikes with its own weapons.
Russia said Ukrainian drones had tried to attack a TV tower over the Bryansk region. No casualties were reported. Moscow also said its aircraft had destroyed four Ukrainian fast-attack boats carrying up to 50 paratroopers on the Black Sea. Reuters could not independently confirm this.
Attacks on Russia in recent weeks, including repeated drone strikes on central Moscow, have brought the war home to many Russians for the first time, even as Ukrainians have spent the past year and a half in constant peril from air strikes.
Moscow has relentlessly pounded Ukrainian cities with long range missiles and drone strikes throughout the war. Thousands of Ukrainian civilians have been killed.
Ukraine said its air defences had shot down 28 Russian missiles and 15 out of 16 drones fired overnight. Explosions rang out in Kyiv where authorities said debris fell on four areas, killing at least two people.
"Kyiv has not experienced such a powerful attack since spring. The enemy launched a massive, combined attack using drones and missiles," Serhiy Popko, the head of the city's military administration, said on Telegram.
At the front line, Ukrainian forces have been advancing in a summer offensive for nearly three months. They have yet to achieve a breakthrough of Russia's heavily mined and fortified defenses, although they have claimed in just the past week to have finally penetrated the first main defensive line.
MORE US AID
U.S. Secretary of State Antony Blinken on Tuesday announced a new package of military assistance to aid Ukraine in its fight against Russia, which launched its full-scale invasion of its neighbour in Feb. 2022.
The package includes additional mine-clearing equipment, missiles for air defence, plus ammunition for artillery and small arms, Blinken said in a statement.
Ukraine is using vast amounts of ammunition in some of the heaviest fighting of the war as its presses its summer counter-offensive in the south and east, where Russian forces are deeply entrenched.
On Tuesday Yevgeny Prigozhin, boss of Russia's Wagner private army, was buried in a leafy cemetery on the outskirts of St Petersburg, six days after he was killed in a plane crash north of Moscow.
Prigozhin, two top Wagner lieutenants and four bodyguards were among 10 people who died when his Embraer Legacy 600 private jet crashed in unexplained circumstances on Aug. 23, two months after he staging a brief mutiny.
President Vladimir Putin had called the mutiny treason but had promised Prigozhin would escape punishment. Moscow says it is investigating the crash and has denied any involvement. Western countries say there is little doubt Prigozhin was killed on Putin's orders.
"We all know that the Kremlin has a long history of killing opponents," White House press secretary Karine Jean-Pierre said. "It's very clear what happened here."