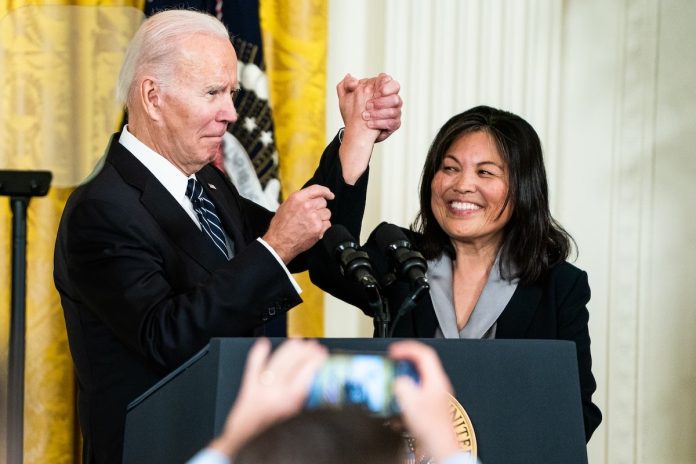 The Biden administration unveiled a new rule Wednesday to extend overtime pay to an additional 3.6 million salaried white-collar workers in the United States.
While most hourly workers are entitled to overtime pay, non-hourly professional workers — executive, managerial, administrative and professional employees — are exempt from overtime pay unless they make less than $35,568 a year.
The Labor Department's proposed rule would guarantee overtime pay for far more non-hourly workers, raising the threshold for professional workers to benefit those earning less than $55,000 a year.
"Today, the Biden-Harris administration is proposing a rule that would help restore workers' economic security by giving millions more salaried workers the right to overtime protections," acting labor secretary Julie Su said in a statement.
The rule would boost wages for many workers in low-wage but salaried occupations — including in administration, hospitality, manufacturing and retail — making them eligible for time-and-a-half pay for working more than 40 hours in a week. In another major change, the rule would include automatic increases to the salary level for overtime eligibility every three years.
The proposed rule, which the Biden administration is touting as part of its "Bidenomics" plan to rebuild the middle class by empowering workers, resurrects an Obama-era policy that was replaced by a less generous Trump-era rule.
The rule now enters a 60-day comment period before it is finalized. It is likely face strong opposition from industry and small business groups.