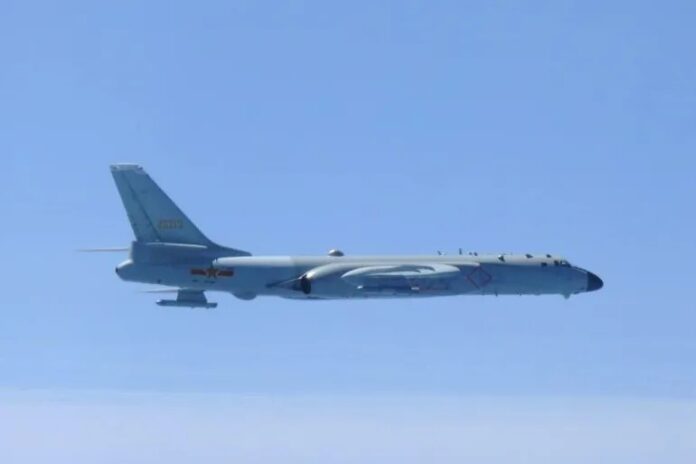 Taiwan sent up fighters and deployed ships and land-based missile systems to keep watch on Chinese aircraft on Sunday after spotting 10 Chinese warplanes crossing the sensitive median line, which separates the two sides, of the Taiwan Strait.
The island's defence ministry said four Chinese warships also carried out combat patrols.
This is the second time in less than a week that Taiwan has reported renewed Chinese military activity after 37 Chinese military aircraft flew into the island's air defence zone, some of which then flew into the western Pacific on Thursday.
China, which views democratically governed Taiwan as its own territory, has regularly flown its air force into the skies near the island over the past three years. However, they have not entered Taiwan's territorial air space.
Twenty-four Chinese aircraft detected by Taiwan
In a short statement, Taiwan's defence ministry said that as of 2pm (06:00 GMT) on Sunday, it had detected 24 Chinese air force planes, including J-10, J-11, J-16 and Su-30 fighters, as well as H-6 bombers.
It did not specify where the aircraft flew but said 10 had crossed the median line of the Taiwan Strait, which separates the two sides and had previously served as an unofficial barrier, which China does not recognise.
Four Chinese naval ships were also engaged in "joint combat readiness patrols", the ministry added without giving details.
China's defence ministry did not immediately respond to requests for comment. It has not commented on Thursday's flights.
Escalating tensions
China has previously said such missions are to protect the country's sovereignty and aimed at "collusion" between Taiwan and the United States, the island's most important international backer and arms seller.
In April, China held war games around Taiwan following a trip to the US by Taiwanese President Tsai Ing-wen.