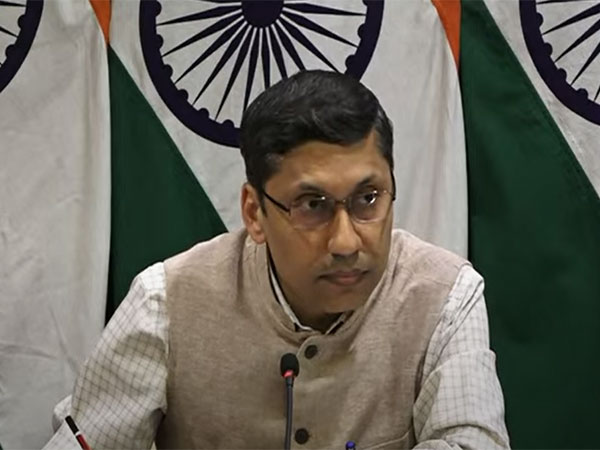 New Delhi [India], April 6: Ministry of External Affairs spokesperson Arindam Bagchi on Thursday said that India hopes that the Chinese authorities would facilitate Indian journalists' continued presence and reporting from China after reports came up where visas of two Indian journalists in China were freezed.
Speaking to the media on Thursday, MEA spokesperson Arindam Bagchi said, "We have Chinese journalists who have valid Indian visas for pursuing journalistic activities (in India). I don't see any limitations or difficulties in reporting and doing media coverage. As regards Indian journalists working in China, we would hope Chinese authorities would facilitate their continued presence and reporting from China."
He also assured that the MEA is in touch with Chinese authorities in this regard.
At a press briefing on Thursday by Chinese Foreign Ministry spokesperson Mao Ning, she was asked if China has suspended the visas for two Indian journalists belonging to two media houses.
The Chinese Foreign Ministry Spokesperson claimed that Chinese journalists have "suffered unfair and discriminatory" treatment in India for a long time.
She alleged that in 2017, the Indian side shortened the period of validity of visas held by Chinese journalists in India to three months or even one month without any valid reason.
Citing other incidents Mao Ning alleged that in December 2021, a journalist stationed in India was asked by the Indian side, with no explanation till now, to leave the country within ten days when his visa was still valid for two months and his term would not end in half a year.
Chinese Foreign Ministry Spokesperson also added that a few days ago, the Indian side asked a journalist of the Xinhua News Agency to leave the country by March 31, citing the reason that he had been in the country for six years.
She further claimed that the Chinese side treats Indian journalists in China with "goodwill" and has actively provided assistance and facilitation for their life and work in China.
Indian journalists stationed in China all hold residence permits valid for one year, during which they can enter and exit from China multiple times and their lawful rights of interview and reporting are fully protected, she claimed.
She added that China's Ministry of Foreign Affairs and the Chinese Embassy in India had expressed concerns to the Indian side on many occasions on the issue of Chinese journalists' visas.
She further alleged that the Indian side went further down the "wrong path".
"Considering this, the Chinese side has no choice but to take appropriate counter-measures to safeguard the legitimate rights and interests of Chinese media organizations."
She said that if the Indian side takes positive measures to "correct their mistakes", China stands ready to head in the same direction and continue to provide facilitation for Indian journalists.