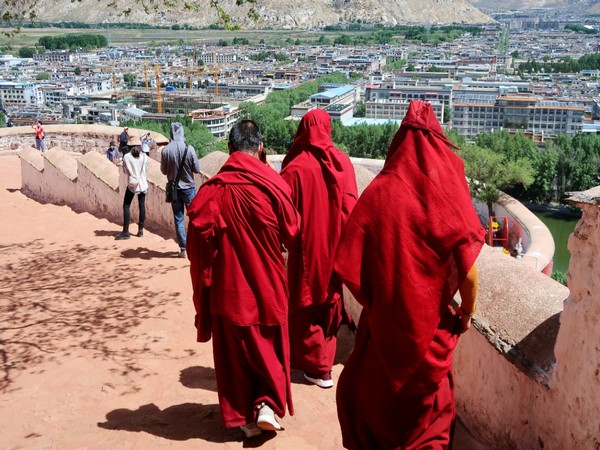 Lhasa [Tibet], April 8: The recent inauguration of a Chinese nation community Consciousness Building Research Centre in the Tibet autonomous region (TAR) is seen as Chinese Communist Party (CCP)'s attempt to sinicize Tibetans in their own land, Tibet Rights Collective said in its report.
According to the report, policies of the CCP will be promoted in the region through this centre.
It claimed that the centre will focus primarily on promotion of "community consciousness" among Tibetans according to China's thoughts and beliefs.
The Tibet Rights Collective Report also underlined how time and again the Tibetan religious figures are seen as the sole reasons behind suppression of Chinese rule in TAR.
Citing another report by the Freedom House, Tibet Press reported how according to the Freedom in teh World Index2023, Tibet ranks as the world's least free country.
Moreover, the strict actions of CCP to sinicize Tibetans and the intensification of it in teh region has instilled fear and a sense of scare amongst the Tibetan population, globally.
The suppression of Tibetans under China's authoritarian regime continues as the monitoring is becoming heavy with every passing day in the region. Due to political sensitivity in the region, Tibetans experience harsher consequences and more intense monitoring than citizens in other countries, Tibet Press reported.
As per several media reports, the Tibetans continue to be persecuted, molested, harassed, beaten and tortured in their own territory.
China at the time was not the People's Republic of China (PRC) established in 1949 after the Chinese Communist Party led by Mao Zedong declared independence and a modern nation-state.
One has to wonder how China gained such vast swathes of territory during decolonization. The people who lived in the ruins of Qing territory – the Chinese – were engaged in a massive quagmire and a civil war that would last until the late 1940s.
After overthrowing the monarchy – the Qing dynasty, there was an immediate power struggle in erstwhile China whose territories was a far cry from the current consolidated territory that now includes Manchuria (The Qing dynasty's home territory of Manchu people), annexed and occupied Tibet (Tibetan Autonomous Regions and the Kham and Amdo – Eastern Tibet), East Turkestan, Southern Mongolia, Hong Kong and even the contesting islands in the South China Sea, according to Voices Against Autocracy.
The so-called "liberation" of Tibet by China is nothing more than the annexation and occupation of territory that properly belongs to the Tibetan people.