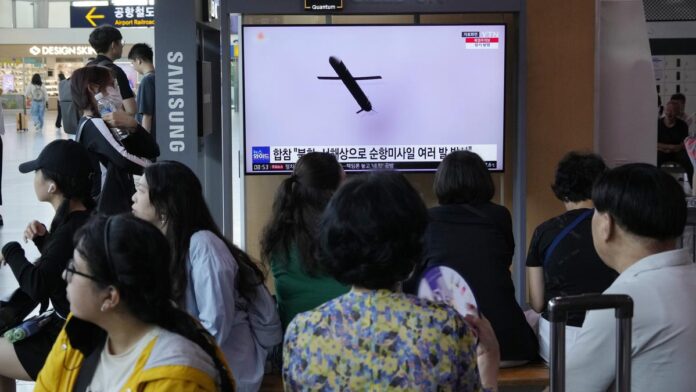 North Korea fired several cruise missiles towards its western sea on Saturday, South Korea's military said, marking the second launch event this week apparently in protest of the docking of a nuclear-armed US submarine in South Korea.
While adding to its barrage of missile launches in recent months, North Korea remained publicly silent for a fifth day on the fate of an American soldier who bolted into the North across the heavily armed Korean border this week.
South Korea's Joint Chiefs of Staff said the launches were detected beginning around 4 am but did not immediately report how many missiles were fired or how far they flew. It said the US and South Korean militaries were closely analysing the launches.
On Wednesday, North Korea fired two short-range ballistic missiles from an area near its capital, Pyongyang. They flew about 550 kilometres before landing in waters east of the Korean Peninsula.
The flight distance of those missiles roughly matched the distance between Pyongyang and the South Korean port city of Busan, where the USS Kentucky on Tuesday made the first visit by a US nuclear-armed submarine to South Korea since the 1980s.
The United States and South Korea have been expanding their combined military exercises and have agreed to increase the regional deployment of US strategic assets like bombers, aircraft carriers and submarines in a show of force against North Korea, which has test fired around 100 missiles since the start of 2022.