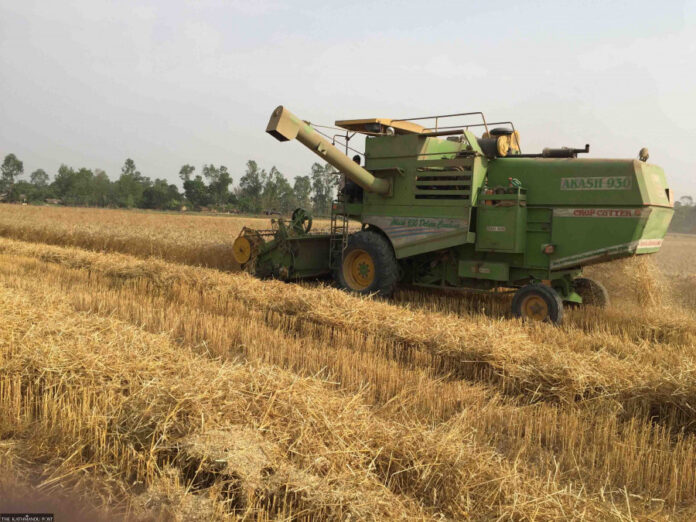 India has widened the door for wheat exports allowing Nepal to obtain a 300,000-tonne shipment it had requested in April to plug a gap in domestic output.
According to Indian media reports, India has permitted exports of around 1.05 million tonnes of food grains to Nepal, Indonesia, Senegal and Gambia as part of its economic diplomacy, waiving curbs on exports.
Nepali government officials say they are yet to receive official notification of the export restriction being removed.
"We had made a request to the Indian side. We have not received official notification from them," said Radhika Aryal, joint secretary of the Ministry of Industry, Commerce and Supplies.
Nepal had sent a request to the Indian government through the Foreign Ministry to provide wheat as local flour mills were struggling to get raw materials.
Mill owners had been pleading with the government that they needed at least 600,000 tonnes of wheat to get them through the upcoming fiscal year beginning mid-July.
"The wheat quota set by India may be insufficient as domestic production has declined," said Radheshyam Agrawal, general secretary of the Nepal Flour Mills Association.
"We have to make further requests to import wheat or else the flour industry will have to shut down again," he said.
The Economic Survey unveiled by the government shows that Nepal's wheat production is estimated to drop by 2.14 percent to 2.09 million tonnes this fiscal year.
"We do not have authentic data, but demand for flour is rising by more than 10 percent annually as bakery manufacturers have large needs," said Agrawal who owns Kamdhenu Agro Mill in Chitwan.
Kathmandu consumes 2,100 tonnes of flour daily, 80 percent of which is refined flour and 20 percent wheat flour, the association said.
Government officials say demand for wheat has been increasing dramatically.
Ram Krishna Regmi, chief statistician at the Ministry of Agriculture and Livestock Development, said that wheat imports barely amounted to 100,000 tonnes before Covid.
"Now, traders and manufacturers are saying that 600,000 tonnes of wheat need to be imported to fulfil their requirement. It is surprising how demand has increased sixfold in a few short years."
According to the Department of Customs, Nepal imported 170,517 tonnes of wheat in the last fiscal year 2021-22.
In the fiscal year 2020-21, imports reached 386,789 tonnes worth Rs11.92 billion.
Flour mills supply refined flour to makers of biscuits, noodles, bread and other bakery products.
Domestic flour mills say they have started procuring wheat locally with the onset of the harvest season. "But domestic production is enough to keep the mills running for only around six months," Agrawal said.
Nepal suffered a severe shortage when India imposed a ban on wheat exports last May after unseasonably hot weather hit harvests there. The embargo caused 80-85 percent of Nepali flour mills to shut down. It was eventually lifted in December.
India instituted a quota system for its neighbours in December last year and allocated 50,000 tonnes of wheat to Nepal.
"We were buying wheat at Rs4,000 to Rs4,500 per quintal, but the price jumped to Rs5,500 per quintal as soon as India imposed the ban," Agrawal said.
Amid pressure from the flour industry and fears of a wheat shortage due to rising prices, the Ministry of Industry, Commerce and Supplies sent a letter to the Indian government in April requesting a consignment of 300,000 tonnes of wheat.
According to Indian media reports, the Indian Department of Food and Public Distribution has allowed exports of 300,000 tonnes of wheat to Nepal at the behest of the Ministry of External Affairs.
India has set a quota despite low domestic wheat stocks, the report said.
The Department of Food and Public Distribution of India, according to reports, deals with the import and export of only wheat and non-basmati rice from central pool stocks available with Food Corporation of India.
"World Trade Organisation norms restrict the export of food grains from public stocks procured for domestic consumption through welfare schemes," the report said.