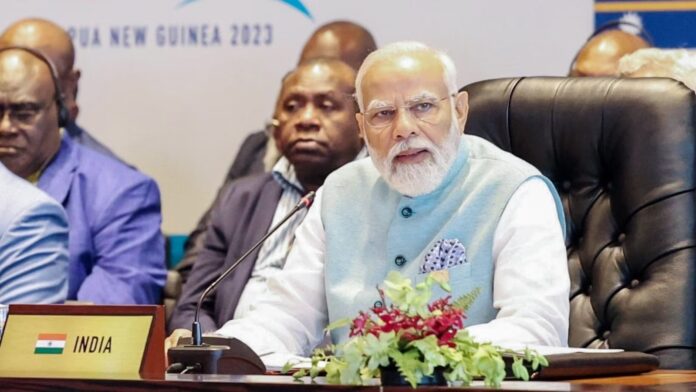 NEW DELHI: India on Monday unveiled an action plan encompassing health, renewable energy and cyber-security to bolster cooperation with Pacific island states amid China's efforts to increase its influence in the area, with Prime Minister Narendra Modi telling regional leaders that New Delhi will stand by them as a friend.
The action plan was announced by Modi while addressing the third summit of the Forum for India-Pacific Islands Cooperation at Port Moresby, the capital of Papua New Guinea. Modi was the first Indian premier to travel to Papua New Guinea, where he participated in the meeting with leaders of 14 Pacific island states.
In his opening remarks at the meeting, Modi referred to challenges facing the small island countries, such as climate change, health-related issues and barriers to the supply of food, fuel, fertilisers and pharmaceuticals, and said: "Those whom we considered trustworthy, it turned out that they were not standing by our side in times of need."
Speaking in Hindi, he added: "During these challenging times, an old saying has proven true: 'A friend in need is a friend indeed.' I am glad India stood with its Pacific island friends during this challenging time." He also referred to aid provided by India to its partners, including vaccines, medicines, wheat and sugar.
Though he didn't name any country, this was an apparent reference to China, which triggered alarm across the region last year by seeking to ramp up security cooperation with the Pacific island states. In April 2022, China signed a security pact with Solomon islands that Western officials said paved the way for a Chinese military presence. Solomon islands was among the countries present at Monday's summit.
Papua New Guinea Prime Minister James Marape, who co-hosted the summit, said Modi has "emerged as the leader of the Global South" and thanked him for advocating the issues of developing countries at India's G20 presidency. "I want to take this moment…and ask you to offer a third big voice in the face of the Global North," Marape said.
Marape urged Modi to raise concerns of Pacific island states related to climate change, including sea level rise and salination of farmland, and the fallout of the Ukraine war, such as the high cost of food and energy, at forums such as the G20. "We suffer as a result of big nations at play in terms of geopolitics and power struggles…I put to you as the leader of the third world…[that] we will rally behind your leadership at global forums," he said.
Modi unveiled a 12-point action plan that Indian officials said is aimed at driving India's partnership with Pacific island states, while simultaneously fulfilling their developmental aspirations and consolidating a shared vision for a free and open Indo-Pacific.
In healthcare, India will bear the full cost of setting up a super-speciality cardiology hospital in Fiji. The greenfield project with trained staff and modern infrastructure will serve as a "lifeline" for the region, Modi said. India will also assist in setting up dialysis units and providing sea ambulances to all 14 Pacific island states.
After organising a "Jaipur Foot Camp" in Fiji in 2022 that provided free prosthetic limbs to more than 600 people, India will hold a similar camp in Papua New Guinea. From 2024, two camps will be held every year in the Pacific island states.
Modi also proposed setting up yoga centres and bringing "Jan Aushadhi Centres", which provide more than 1,800 generic medicines at affordable prices in India, to the Pacific islands.
The Centre of Excellence for IT in Papua New Guinea will be upgraded into a Regional Information Technology and Cybersecurity Hub, while a 24×7 helpline will be established for Fiji, with plans for similar facilities in other countries.
The Indian side also announced a project to develop the SME (small and medium enterprise) sector in all Pacific island countries by providing machinery and technology supplies. Following a project to convert the residences of all heads of state of the Pacific islands states to solar power, at least one government building in all these countries will be converted to solar power. India will provide desalination units to every Pacific island country to address water scarcity and offer 1,000 ITEC training opportunities under the new "Sagar Amrut Scholarship" over the next five years.
Modi, who co-hosted the summit with Papua New Guinea Prime Minister James Marape, said India has worked to highlight the concerns of developing countries through the Voice of Global South Summit and outreach sessions of the G7 Summit.
"We are ready to share our capabilities and experiences with you without any hesitation – whether it's digital technology or space technology, whether it's health security or food security…we are with you in every way," he said. "We support a free, open and inclusive Indo-Pacific. We respect the sovereignty and integrity of all countries. The voice of the Global South should resonate strongly in the UN Security Council. For this, reform of international institutions should be our shared priority."
The Forum for India-Pacific Islands Cooperation was set up in 2014 and includes Cook Islands, Fiji, Kiribati, Marshall Islands, Federated States of Micronesia, Nauru, Niue, Samoa, Solomon Islands, Palau, Papua New Guinea, Tonga, Tuvalu and Vanuatu.
Foreign secretary Vinay Kwatra told a media briefing that the forum has helped deepen India's engagement with the Pacific islands in many areas since the two sides have similar views on regional priorities. There is an "overwhelming sense of goodwill" towards India and appreciation for the country's role in the region, he said.
The Pacific island states see India as a "reliable partner which has democratic values" and whose developmental template "doesn't structurally burden their economies", Kwatra said in a tacit reference to concerns about the debt burden created by China's Belt and Road Initiative.