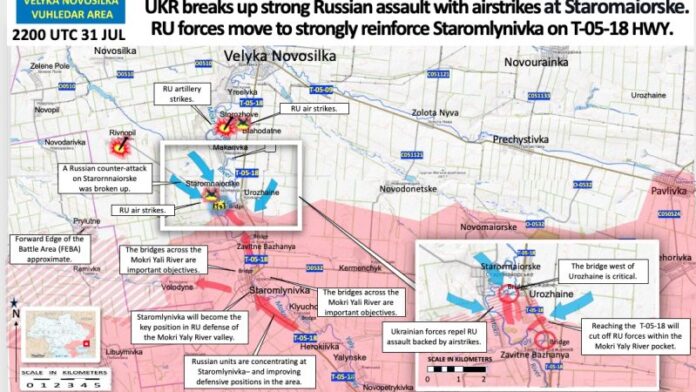 They rode into a kill zone. The timing was off. Many men were lost. In the end, they recaptured the ruined village of Staromaiorske, claiming Ukraine's biggest advance for weeks.
Troops at the spearhead of Ukraine's counteroffensive say a battle last week along the front in the southeast proved to be tougher and bloodier than expected, with plans going awry and an enemy that was well-prepared.
"The Russians were waiting for us," said a 29-year-old soldier using the call-sign Bulat, from a unit sent into battle in armoured vehicles during last week's assault.
"They fired anti-tank weapons and grenade launchers at us. My vehicle drove over an anti-tank mine, but everything was ok, the vehicle took the hit, and everyone was alive. We dismounted and ran towards the cover. Because the most important is to find cover and then move on."
Tales of the battle of Staromaiorske, recounted to Reuters near the frontline in southeastern Ukraine, give an indication of why Kyiv's boldest counteroffensive of the war, soon entering its third month, has proven a slower and bloodier slog than anticipated.
"Our mission was planned to take two days. But we couldn't drive in during the darkness at the right time, for a few reasons. So we drove in later and lost the right moment," said Bulat.
Kyiv, which has received billions of dollars worth of equipment and training from Western countries to mount its counteroffensive to recapture occupied territory this summer, has acknowledged that its campaign is unfolding more slowly than expected. Commanders say the deliberate pace is needed to avoid high casualties.
The Russians have had months to prepare their fortifications and sow minefields. The Ukrainian attackers lack the air superiority that their NATO allies normally expect in their training drills.
The Russian defenders had set up "pre-sighted zones" in anticipation of the attack, said a 24-year-old Ukrainian marine with the call-sign "Dub".
"They methodically destroyed the roads. They made pits that prevented driving in and out of the village, even in dry weather. Even walking was quite hard. You can't use flashlights at night, but you still have to advance."
Another soldier, using the call-sign Pikachu, said men in his unit "tried our best. We made it."
"The dismount was not great," the soldier acknowledged. "We advanced slowly but surely. They were shooting, everything was flying. It was scary, but we moved on. Nobody fell back. Everyone did a great job.
"Many of us who went will never return home."