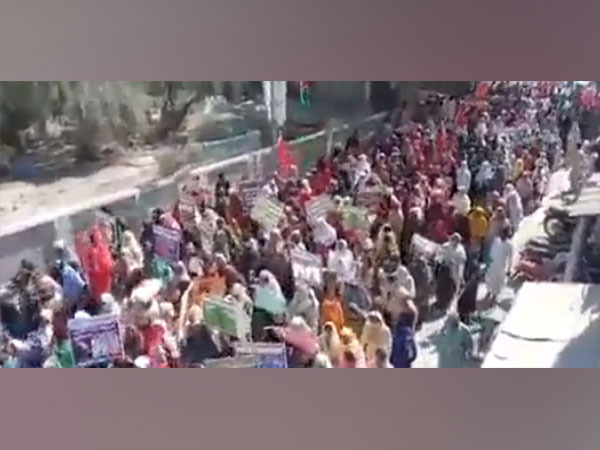 Karachi [Pakistan], March 13: Hundreds of women, men and transgender persons on Sunday took part in the Aurat March in Karachi demanding the eradication of poverty, hunger and discrimination on the basis of gender, Pakistan-based Geo News reported.
The march brought together people from diverse classes and age groups.
The central theme for this year's Aurat March was "Riyasat jawab do, bhook ka hisab do" (State give an answer and be accountable for hunger).
According to Geo News, the venue for the march was changed for the second consecutive year as the marchers gathered at the Burns garden Karachi at around 4 pm. The date of the march was also changed this year from March 8 to 12 as the organisers wanted to hold the march on Sunday to ensure maximum participation.
The attendance was, however, lower compared to earlier marches. The reason for the lower attendance could be the recent law and order situation in the country, an organiser told.
One of the organisers on the occasion of the march said: "Hunger, poverty, climate change and inflation are all feminist issues as women — who are a majority in Pakistan — bear the brunt of all these issues more heavily than other sections of society."
The event was marked with musical performances to raise awareness about issues such as forced conversions, bonded labour and transgender rights.
A large number of transgender persons including activists Shehzadi Rai, Mehrub Moiz Awan and Bindya Rana also participated in the march and took the stage to make participants aware about the issues faced by the trans community in the country, specifically after the recent wave of negative campaigning against the vulnerable community.
Dr Mehrub Awan, while talking to Geo News, said that the purpose of trans people's participation in the march is to show solidarity.
"In a country torn by religious, ethnic, linguistic and sectarian divide, people coming out in solidarity with each other is a rare sight," Mehrub said.
After the performances, the participants marched towards the Sindh Assembly via the Arts Council of Pakistan. The marchers then staged a short sit-in in front of the Sindh Assembly where activists performed a small play highlighting the issue of rape in the country.
A long piece of white cloth was also held by the protestors with signs of hands printed on it using red colour. The cloth was carried overhead by the marchers and burnt at the end of the march as a symbol of anger over the hardships faced by them in society.