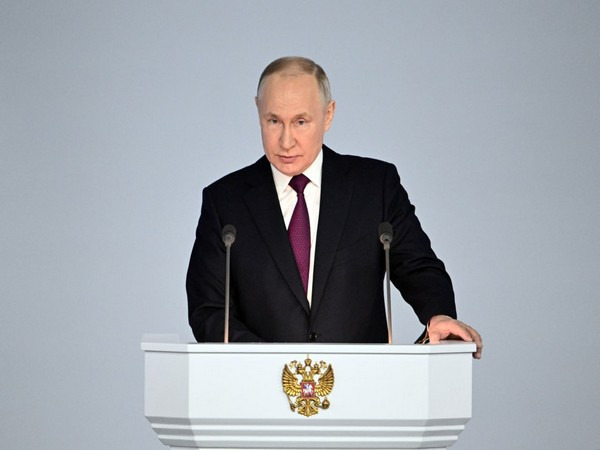 Moscow [Russia], March 13: A group of Russian wives and mothers have called on President Vladimir Putin to stop sending their husbands and sons "to the slaughter" by forcing them to join assault groups without adequate training or supplies.
Independent Russian Telegram channel SOTA shared a video in which women said their loved ones had been "forced to join assault groups" at the beginning of March despite having just four days training since their mobilization in September.
The video shows the women holding a sign in Russian that reads, "580 Separate Howitzer Artillery Division," dated March 11, 2023.
One woman in the recording said: "My husband… is located on the line of contact with the enemy."
"Our mobilized [men] are being sent like lambs to the slaughter to storm fortified areas, five at a time, against 100 heavily armed enemy men," she continued.
"They are prepared to serve their homeland but according to the specialization they've trained for, not as storm troopers. We ask that you pull back our guys from the line of contact and provide the artillerymen with artillery and ammunition," she said.
Russia's move to send hundreds of thousands to fight on the battlefields of Ukraine has generated dissent and protest and prompted many Russians, young men in particular, to flee the country.
"We ran away from Russia because we want to live. We are afraid that we can be sent to Ukraine," said one man who asked not to be identified.
Families of drafted Russian men have criticized the mobilization, saying it is beset by problems such as discipline issues and lack of leadership from mid-ranking officers, non-existent training as well as logistical difficulties like insufficient uniforms, poor food and a lack of medical supplies.
Meanwhile, Asia Times recently reported that Russian success in Ukraine would align with China's goals of reshaping global politics and power and could help facilitate China's own rise as an economic and military leader.
In the backdrop of China's goals of reshaping global politics and power that would bolster its superpower status, Beijing might arm up Russia's war, wrote Michael A Allen, Professor of Political Science, Boise State University in Asia Times.
In February 2022, Chinese President Xi Jinping met with Russian President Vladimir Putin at the Winter Olympics in Beijing. They issued a joint document calling for reshaping global politics.
The lengthy statement details shared values and a vision for a world without the United States as a major leader, and where China and Russia gain more control and influence.