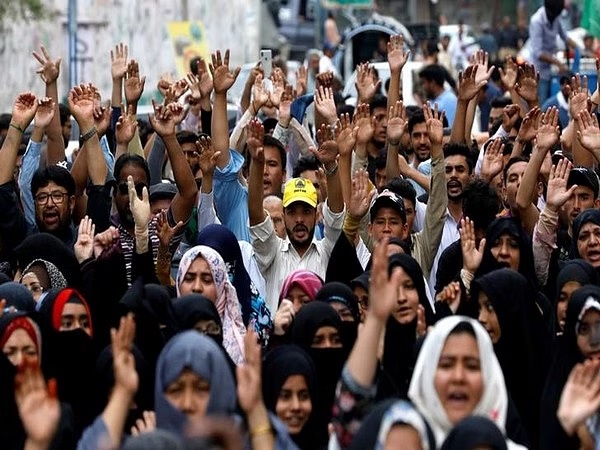 Gilgit-Baltistan [PoK], March 1: People in Pakistan-occupied Kashmir (Pok), Gilgit-Baltistan protested in two districts over the shortage of electricity and wheat, Dawn reported.
According to the Pakistani newspaper, in Gilgit Baltistan, many residents including women gathered at the intersection and blocked Shahrah-i-Quaid-i-Azam in continued protest against 22 hours of daily power outages in their area.
Protesters at Zulfiqarabad Chowk chanted slogans against the government and said the crisis had been going on for the last two weeks. The residents said they were sometimes deprived of even two hours of daily electricity supply, making their lives difficult amid winter.
On top of it, they were also faced with wheat shortage, the protesters said and blamed the government for failing to provide even necessities to people, according to Dawn.
One of the protesters said that the Gilgit Baltistan Chief Minister should be here to resolve public issues, but he was in Lahore "to protect former prime minister Imran Khan".
Later, the protesters dispersed peacefully after Amin Baig, coordinator to the chief minister, negotiated with them and assured them of resolving their issues immediately.
Meanwhile, the residents of Ghanche's Barah village, the hometown of GB Local Government Minister Haji Abdul Hameed, also staged a protest against the wheat shortage.
The demonstrators blocked Siachen Road and staged a sit-in to press the government to fulfil their demands, reported Dawn.
Prolonged power cuts have led to frequent angry demonstrations in Pakistan-controlled Kashmir and Gilgit-Baltistan. Skardu city has been left totally without electricity for the past three months. Load-shedding has become a daily occurrence.
Power shortage is not the only issue for the ACC protesters. Wheat and flour have disappeared from the shops, according to reports in Baad-e-Shimal, Daily K2.
The power situation has worsened over the years despite the abundance of water resources in a region that is reputedly
Pakistan's principal water reservoir. But only 16 per cent of the capacity for hydropower generation has been utilized so far.
The estimated total hydropower potential of Pakistan is around 60,000 MW. Currently, the hydro installed capacity is only 10,251MW, around 25 per cent of the total installed capacity. Successive governments have resorted to imports as an easy solution.
Writing in The News International (February 21, 2023), irrigation and power engineer Ali Rehmat Shimshali points to the overall neglect of hydropower and preference for fuel-based power generation.