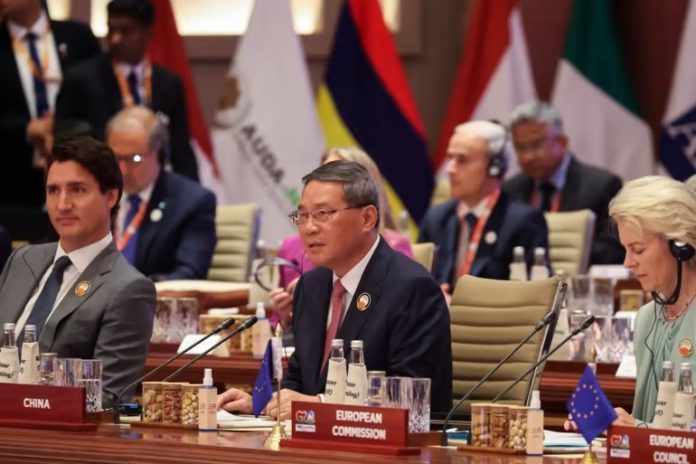 U.S. President Joe Biden this past weekend made comments on the Chinese economy that raised eyebrows for the definitive tone.
Xi has "his hands full right now," Biden said during a news conference in Hanoi.
"He has overwhelming unemployment with his youth. One of the major economic tenets of his plan isn't working at all right now. I'm not happy for that. But it's not working."
Biden was speaking in Vietnam on Sunday, following a visit to India, where the Group of 20 summit was held. Chinese President Xi Jinping canceled his attendance at the G20, triggering a host of speculation over why.
Two years ago, while the Western world was being pounded by the COVID-19 pandemic, the Chinese leader confidently declared that "time and momentum are on our side. … The East is rising and the West is declining."
How drastic the changes have been since then.
While Biden prefaced his statement by stating, "This is not a criticism; it's an observation," Chinese officials whose ears they fall on will consider them to be interference in China's internal affairs.
The venue was a news conference summarizing the trip to India and Vietnam. It was not during a campaign speech where candidates' statements on China tend to become one notch harsher.
Chinese Premier Li Qiang, a close aide to Xi, attended the G20 instead. Li exchanged greetings and had a simple conversation with Biden at the summit.
"It wasn't confrontational at all. He came up to me," Biden said, highlighting the friendly nature of the conversation.
But at the news conference, Biden did not even mention Li by name, referring to him instead as China's "No. 2 person." Whether Biden had forgotten Li's name or deliberately did not mention the premier by name is not clear.
Chinese officials are not fussing over that slight. What rankles Chinese officials is Biden's statement that one of Xi's major economic "tenets" isn't working "at all."
Every summer incumbent Chinese Communist Party leaders and retired party elders get together at the seaside resort of Beidaihe, Hebei province, to informally discuss important issues behind closed doors.
This summer there were discussions about economic, political and social turmoil in China.
Biden's comments on the Chinese economy come at a sensitive time. Why now?
One source close to U.S.-China relations noted that intelligence about the fierce political moves in China over the summer may be reaching Biden's desk.
The use of the term "tenet" is especially interesting.
Xi's three predecessors — Deng Xiaoping, Jiang Zemin and Hu Jintao — all attached importance to the policy of "reform and opening-up," which led to sky-high growth. Xi's signature "common prosperity" policy, on the other hand, puts more emphasis on correcting disparities than on achieving high growth.
The tensions that flared at the Beidaihe meeting this summer, ultimately boil down to a clash of tenets. Biden seemed to be alluding that some elements of Xi's economic plan — based on "Xi Jinping's economic thought" — have failed.
Biden was not the only figure signaling on China. U.S. Ambassador to Japan Rahm Emanuel posted a controversial tweet on the social media platform X, two days before Biden's news conference.
"President Xi's cabinet lineup is now resembling Agatha Christie's novel And Then There Were None," Emanuel wrote. "First, Foreign Minister Qin Gang goes missing, then the Rocket Force commanders go missing, and now Defense Minister Li Shangfu hasn't been seen in public for two weeks. Who's going to win this unemployment race? China's youth or Xi's cabinet?"
Emanuel's jibe about the recent disappearances from the public eye of senior Chinese officials is another sign that the Biden administration has gained insight into some likely chaos in China's internal affairs.
The tug of war between the U.S. and China was supposed to be the most interesting part of the G20 summit. But Xi, who long ago appeared to have successfully concentrated political power in his hands, suddenly decided to skip it.
Meanwhile, the U.S. is active in its approach to India. Currently the world's fifth largest economy, India has the potential to overtake Japan and Germany to become the third largest by around 2030.
Joining hands with the future No. 3 makes sense for the U.S. as it formulates a response to China, a country determined to overtake Washington militarily and economically.
As part of its efforts to woo India, the U.S. brokered the South Asian country's latest round of cooperation with the Middle East and Europe. The launch of the India Middle East Europe Economic Corridor, which includes shipping and railway links, was announced at the G20 summit.
The corridor reflects a desire to counter the China-led Belt and Road Initiative, a massive series of infrastructure projects meant to link China and Europe as the Silk Road once did.
What is the current state of the Indian economy under Prime Minister Narendra Modi?
Factories that make various industrial goods ranging from high-tech products to clothing have begun to move to India from China, which at the turn of the century was dubbed "the world's factory."
South Korea's Samsung Electronics, the world's top smartphone maker, closed all its flagship smartphone manufacturing plants in China, shifting production to Vietnam and India.
Samsung has a massive smartphone plant in the Delhi suburb of Noida that stray cows roam around.
In the autumn of 2019, before the COVID-19 pandemic broke out, Samsung announced a decision to shut down its last remaining plant in China and shift production to Vietnam, citing sharply rising labor costs in China.
Samsung smartphones are now one of Vietnam's major export items.
In India, Samsung sells foldable smartphones, some locally made. U.S.-based Apple is also seeking to lower its Chinese production ratio and significantly boost production in India.
India's economy is not growing as rapidly as the Chinese economy once did. But there is no doubt it will slowly and steadily close in on its rival. If that happens, geopolitical dynamics will also inevitably change.
Domestic politics were the main reason for Xi's absence from the G20 summit. But as Biden's barbs in Hanoi could make Xi lose face, there is also a possibility that tumultuous U.S.-China relations will change further.
Looking ahead, there is a hurdle in front of Xi that he must surmount if he is to attend the Asia-Pacific Economic Cooperation summit in San Francisco, in the U.S. state of California, two months from now.
The Biden administration has almost completely ignored Chinese calls to create a favorable environment that will allow Xi to travel to California. If this situation continues, top Chinese diplomat Wang Yi's plan to soon visit the U.S. to lay the groundwork for Xi could also fall through.
There is a 50-50 chance at best that Xi will visit the U.S. in November, according to an expert familiar with U.S.-China relations. But in international politics, change comes fast, and it has already been several days since Biden lit a fuse in Hanoi.