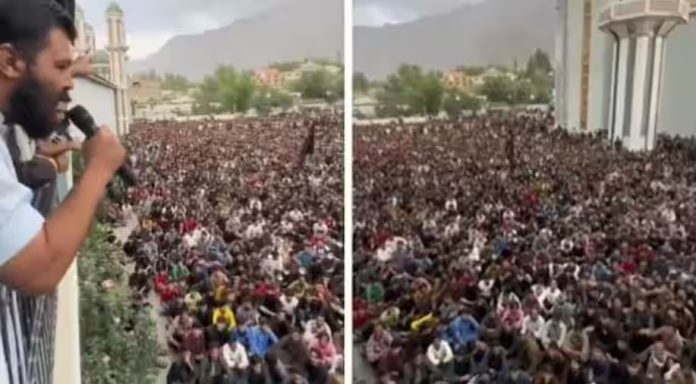 Gilgit-Baltistan region in Pakistan-occupied-Kashmir (PoK) is in the news for anti-Pakistan protests. Various news reports referred to a video on social media platform X (formerly Twitter) and said that locals gathered in large numbers in Skardu to express their anger against Pakistani government demanding immediate release of their leaders. Protesting locals have reportedly threatened Pakistan government with "civil war" and have even said that they would "merge with India" in case the demands are not met.
The video being referred to reportedly shows a local leader addressing a large crowd gathered near a mosque in the city. The leader can be heard saying that if Pakistan does not release leaders of the region and cease arresting them, the protesters would "smash the doors to Kargil", this us being interpreted as a threat to join India. The protesters blocked Karakoram highway
The video shows slogans being raised and vows of being unafraid being taken.
"We will go to Kargil and no one will be able to stop us," says the leader as the crowd cheers.
"Remove these terrorists, I have two FIRs, why are we are being provoked," says the leader in the video.
Media reports suggest that there has been an FIR against a Shia Muslim cleric. People are reportedly are not happy at the development. There is also resentment in Skardu over toughening of blasphemy law.
As per reports an FIR has been filed against Shia cleric Sheikh Bakir al-Husseini according to blasphemy law. It has been alleged that the cleric had made controversial comment against Prophet Mohammed. al-Husseini has denied the claims.
Is the Pak army escalating tensions?
The demonstrators also blocked roads and passages, alleging that it was the army and the intelligence agency ISI who were escalating tensions in the region by taking advantage of the sectarian divisions.
Such is the anger against the Pakistani administration and the army that locals are now openly saying what was considered blasphemy just a few months back—Rejoining India.
"If you give us pain, we will give you double the pain. There is no peace now. Peace will come when our lives will be secured. If we are not safe, no one else will be spared. I am saying this in the open, this place will not be opened for traffic till the time the government officials withdraw the FIR. They took action against our cleric. We want them to come and face us," said Wazir Hasnain, a social worker in the Gilgit-Baltistan region.