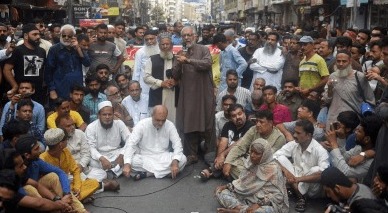 NEW DELHI: Pakistan's interim finance minister Shamsad Akhtar on Wednesday said the country's economic situation is "worse than anticipated", according to a report in the Dawn newspaper. This even as protests continued across Pakistan with people demanding relief against surging electricity bills.
The minister also ruled out subsidies to ease the burden of the people. There is no "fiscal space" due to "non-negotiable" commitments with the IMF, Akhtar said. Pakistan got the much-needed $3 billion loan from the IMF in June under strict conditions that included raising power tariffs and phasing out all subsidies.
During a meeting of the Senate's Standing Committee on Finance, Akhtar asserted that the interim set-up has "inherited" the IMF programme, hence, it was "non-negotiable".
The minister said government institutions are suffering "unbearable losses" and underscored the need to accelerate privatisation, adding that 70 per cent of Pakistan's tax revenue was being spent on debt relief.
She said the rupee was under pressure due to the dollar's low inflows and high outflows and "the next elected government would have to re-engage with independent power producers".
The minister said if the agreement with the International Monetary Fund (IMF) was not implemented, the dollar inflow would stop and the economic situation would worsen.
She said the previous government had agreed on "adjustments" with the IMF and the incumbent set-up could not do anything in this matter.
The interim government set up this month to oversee the election is in a fix as protests have erupted across the country against the rising cost of electricity, with people demanding relief.
Addressing a press conference after the meeting of the Senate Standing Committee on Finance, Akhtar said the administration is committed to preventing any exacerbation of hardships faced by the vulnerable.
However, she acknowledged that the previous governments had entered into binding agreements with the IMF, elucidating that these deals encompassed provisions for subsidies.
In a cabinet meeting presided over by caretaker Prime Minister Anwaarul Haq Kakar on Tuesday, the interim set-up expressed helplessness on how to address the issue of increasing power tariffs.
Later, interim Information minister Murtaza Solangi, who didn't immediately hold a presser after the Cabinet meeting, told a private TV channel that the government was engaging with the IMF on relief measures for electricity consumers and an announcement is expected soon.
Quoting a source privy to the meeting, the Dawn newspaper reported that the Cabinet noted that the interim set-up could not give any relief to consumers, but it could allow breaking up the bills into four to six instalments.
"Even in the case of instalments, the government will have to get prior permission from the IMF," news agencies said quoting sources.