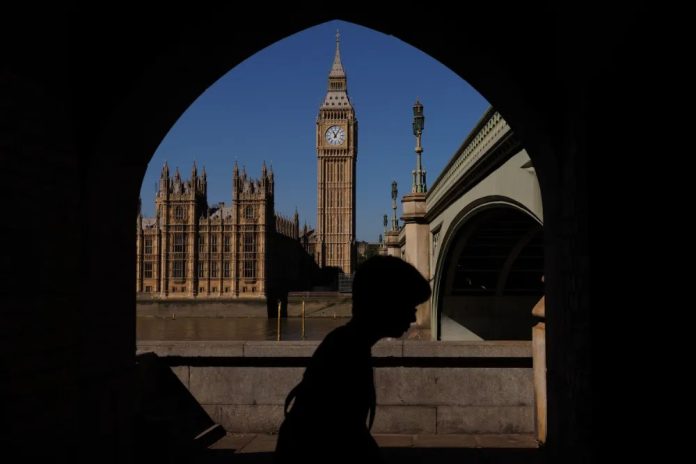 A U.K. parliamentary aide is arrested on suspicion of spying for China, China's defense minister is missing from public, and Beijing plans an iPhone ban across government bodies and other state organizations.
U.K. Parliament Aide Charged With Spying for China
News broke over the weekend that a U.K. parliamentary aide had been arrested in March, along with another individual, on charges of violating the Official Secrets Act on behalf of China. British lawmakers have reacted angrily, because of both the six-month delay in the announcement of the news and the intrusion into Parliament. The man, 28, was a parliamentary researcher for the Conservative Party, a position that allows access to some sensitive information. (The researcher was released on bail and has denied the charges.)
The scandal is the most notable public espionage case involving China and the United Kingdom in years, and it comes at a time when the ruling Conservative Party is trying to reset its relationship with China. The COVID-19 pandemic, Beijing's aggressive diplomacy, and public pressure to act against China's human rights abuses have strained bilateral relations. The end of free speech in Hong Kong, a former British colony, is also a sore spot, especially since the U.K. has acted as a refuge for democratic activists.
British leaders have been reluctant to give up on the dream of Chinese markets and investment, especially as the U.K. scrambles to navigate a post-Brexit future. The Tories appear set for a major loss in the next U.K. general election, which is expected to take place before January 2025, and they are desperate for any economic good news.
British Prime Minister Rishi Sunak took a more hawkish stance toward China during his first bid for the job last year—which he lost to short-lived leader Liz Truss. Sunak and his team have backed down from that position since the prime minister took office last October. British Foreign Secretary James Cleverly, on a trip to Beijing last month, called isolating China a mistake, while Kemi Badenoch, the secretary of state for business and trade, insisted that China was a "challenge" and not a foe.
The U.K. often aligns itself with the United States, but London's relationship with Beijing hasn't reached a nadir, as Washington's has. (For example, flights between the U.K. and China have nearly returned to pre-pandemic frequency, while U.S.-China flights are back to just 16 percent of the 2019 figure.) Since shifting back to advocating for engagement, Sunak has faced critics in the Conservative Party, including British Security Minister Tom Tugendhat, former party leader Iain Duncan Smith, and Truss, who planned to attack Sunak on his previous calls for engagement with China during the party leadership campaign.
Most of the British press has avoided naming the parliamentary researcher. The Times of London, however, named him as Chris Cash. Cash once worked for the China Research Group—a moderately hawkish group co-founded by Tugendhat—and also spent two years in Hangzhou, China, working for the British Council, an overseas cultural body. The other individual arrested alongside him has not been named.
Cash's previous work in China raises the possibility that he could have been recruited while living there and instructed by the Chinese Ministry of State Security (MSS) to get a security-related job back at home. The MSS has used that technique against the United States in at least one case and, according to U.S. security sources, in other cases that were not made public. According to activist Luke de Pulford, Cash briefed Parliament against the Inter-Parliamentary Alliance on China, a human rights lobbying group, and also intervened to help block human rights-related actions.
Meanwhile, China said last month that it had arrested two CIA spies in August, and it announced this week the sentencing of a U.S. citizen to life imprisonment on espionage charges several months ago. China provides little detail about espionage cases, which are often used as a political tool, but U.S. intelligence regularly attempts to recruit sources in China—sometimes at great cost.
Much of the fallout in the U.K. will center on why it took so long for Parliament to be informed of the alleged spy as well as accusations that the country has been slow to respond to more aggressive Chinese espionage. I would not be surprised if the U.K. intelligence services—which have internally taken a harder line on China—begin to discreetly leak other potential scandals, as Canadian intelligence officials did when they felt Canadian Prime Minister Justin Trudeau had failed to act on Chinese electoral interference.
Late on Tuesday, some agencies broke the news that two potential Conservative Party parliamentary candidates were dropped from candidate lists due to concerns over their ties to Chinese intelligence. The political mood in the U.K., both among members of Parliament and the public, is likely to swing sharply against China soon.