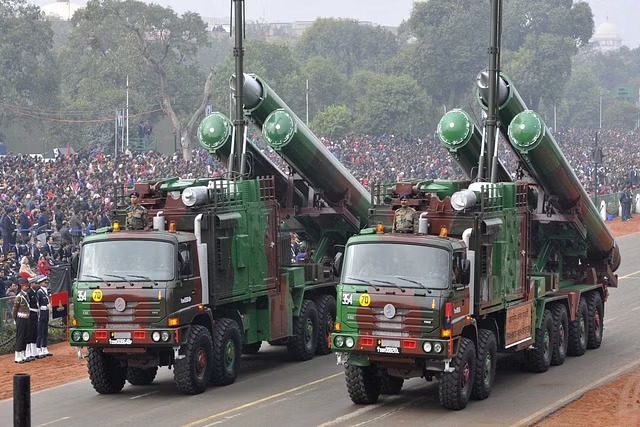 In another potential victory for India's defence export, India could sell its BrahMos supersonic anti-ship cruise missile to Vietnam.
According to a report, Vietnam is interested in acquiring three to five batteries of BrahMos missile.
With each battery of the system costing more than $125 million, the deal could be worth more than $375 – 625 million.
India has already exported three batteries worth $375 million of the missile to the Philippines Marine Corps and there are reports that the Philippines armed forces can also buy more missiles.
It is worth noting, that Vietnam already operates Russian Bastion-P mobile coastal defence system, that uses P-800 Oniks supersonic cruise missile.
The BrahMos supersonic cruise missile is based on the P-800 Oniks supersonic missile.
India had previously attempted to export the BrahMos missile to Vietnam in the mid-2000s when the Vietnamese government opted to purchase the Bastion-P coastal defense system from Russia.
It is likely that Vietnam's interest in acquiring the BrahMos missile grew after Russia was unable to supply them with spare parts due to manufacturing units prioritising their own needs during the ongoing Russia-Ukraine war.
The Vietnamese Defence Minister, Phan Văn Giang, is also scheduled to visit New Delhi on 19 June to enhance bilateral relations and defence cooperation between the two countries.
BrahMos missile is supersonic anti-ship and land-attack supersonic cruise missile used by all three services of the Indian Armed Forces. The missile was developed jointly by India's Defence Research and Development Organisation (DRDO) with Russian missile manufacturer NPO Mashinostroyeniya.
The maximum range of the export variant of the missile is 290 kilometres, while upgraded variants could reach up to 400-450 kilometres.
Another, in-development, longer-range version of the missile — BrahMos-ER — can strike enemy targets up to a range of 800 kilometres.
The missile travels at a maximum speed of 2.9 Mach, or 2.9 times the speed of sound and carries a 300 kg high explosive warhead.