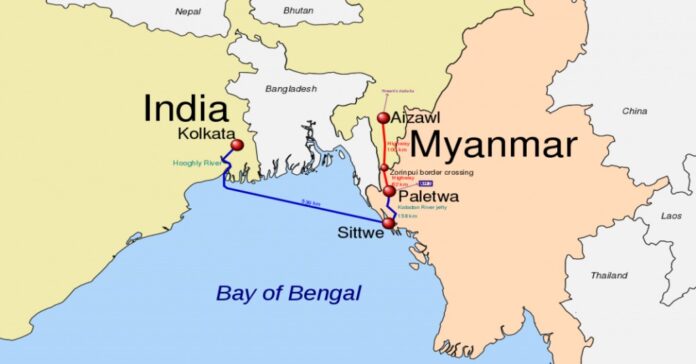 Bilateral trade between India and Myanmar could rise significantly from current level of $1.76 billion once rupee trade settlement mechanism is established, said P K Shah, Chairman of the Committee on Foreign Trade Policy & WTO and Past Chairman, EEPC India at an interactive session with U Aung Naing Oo, Union Minister, Ministry of Commerce, The Republic of the Union of Myanmar and his Ministerial Delegation in Kolkata today.
"EEPC India has taken up the issue with the Government of India and we are of the opinion that once this rupee trade arrangement is established, competitiveness of both India and Myanmar would be enhanced and bilateral trade and investments will boost to a significant level as this process will be less complicated in absence of any foreign currency," said Shah.
The RBI has already allowed payments to be received in Indian Rupees and the Myanmar government intends to initiate the currency convertibility for the Indian rupee for trade. Under this settlement mechanism, Myanmar will accept payment for all its exports to India in Indian rupees and the same export earnings can be used to make payments for goods and services imported from India.
RBI has appointed and authorised Punjab National Bank of India to open a special Rupee Vostro Account (SRVA) for foreign trade with Myanmar. PNB has already approached CB bank and UAB bank of Myanmar to open a SRVA account for trade arrangement in Indian Rupee and MM Kyats under the special arrangement.
Once Indian Rupee Trade arrangement is established, it will boost large value trade from India and Myanmar as this will not involve any foreign currency. All the transactions will be settled with both the local currencies of respective countries.
U Aung Naing Oo & Thant Sin Lwin, Director General of Directorate of Investment and Company Administration, Ministry of Investment and Foreign Economic Relations, The Republic of the Union of Myanmar, appreciated the decision of Government of India and Reserve Bank of India for introducing the system of International Trade Settlement in Indian Rupees.
India is the 11th largest foreign investor in Myanmar with a total investment of $1.736 billion between April 2000 and March 2023. Total merchandise trade between India and Myanmar has reached $1.76 billion in 2022-23 on the back of rising imports from Myanmar. India's exports to Myanmar however witnessed a decline in both merchandise as well as engineering in the last few years.
Engineering trade more than halved in 2022-23 in comparison to 2019-20 due to drop in exports of Iron and Steel, Auto components/Parts, Industrial Machinery, and Electric Machinery and Equipment among others.
EEPC India appealed to U Aung Naing Oo to expedite the trade settlement in local currencies.