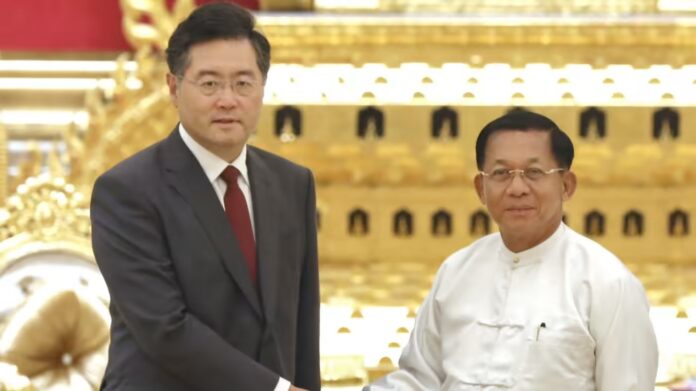 TOKYO: In the more than two years since — Myanmar's military took control of the government, China has clearly become the biggest backers of the generals who now hold power.
While many saw China becoming heavily involved in Myanmar to gain access to strategic points in the Indian Ocean, there is growing evidence that Beijing has drawn closer to the country to crack down on international criminal gangs.
The cozy relationship between the countries that share a border was evident when Senior Gen. Min Aung Hlaing, Myanmar's commander in chief, met with Chinese Foreign Minister Qin Gang in Myanmar's capital of Naypyitaw on May 2.
"China believes that the international community should respect Myanmar's sovereignty and play a constructive role in helping Myanmar achieve peace and reconciliation," China's Foreign Ministry said in a statement after the meeting.
China will also "continue to provide assistance within its capability for Myanmar's development" and "accelerate key cooperation projects of the China- Myanmar Economic Corridor," the Foreign Ministry added.
The statement underscored Beijing's support for the military government and its opposition to the sanctions-backed pressure campaign led by the U.S. and Europe.
Qin said his visit expressed how China stands with Myanmar in the international arena, according to an account of the meeting by Myanmar's military.
Beijing has made plain its willingness to run interference for Myanmar on the international stage. For example, China, along with Russia, has used its seat on the U.N. Security Council to oppose sanctions by the body.
But until recently, senior Chinese officials have held off from making contact with Myanmar's top brass. Qin's meeting with Min Aung Hlaing left a strong impression that China was taking the relationship to the next level.
The emphasis on the China-Myanmar Economic Corridor provides a clue to Beijing's motivations for engagement.
During his May trip, Qin also met with Myanmar Foreign Minister Than Swe, laying out another economic corridor that runs through China, Myanmar and Bangladesh as part of Beijing's Belt and Road Initiative. That would allow China to cut out India, which has been reluctant to join Belt and Road projects.
A Bangladesh-China-Myanmar economic corridor would offer a solution to India's absence. Since relations between Myanmar and Bangladesh have been strained by the Rohingya issue, China appears to be using Qin's trip as a step to stabilize relations. Ultimately, it has the Indian Ocean in its sights.
Chinese-backed infrastructure projects in Myanmar have raised alarms about the development of military facilities on Myanmar's Great Coco Island, which was believed to have begun in late March.
An analysis by British think tank Chatham House used satellite photos taken by U.S.- based Maxar Technologies in January to identify an expanded runway and new aircraft hangars.
Great Coco is a small, strategically important island in the Bay of Bengal, about 400 kilometers south of Yangon. It is located just north of the Andaman and Nicobar Islands, where India has military facilities, making it an ideal monitoring base.
India has expressed strong concern over the development, though China and Myanmar have both denied any Chinese involvement. However, the military takeover in Naypyitaw has deepened Myanmar's economic woes and expanded China's influence, making it difficult for India to ignore its suspicions.
China has long placed strategic importance on its relationship with Myanmar in both a military and an economic sense. Myanmar anchors a pipeline for crude oil shipped from the Middle East that runs from the Indian Ocean coast to Yunnan province, China.
Qin's push for the acceleration of the China-Myanmar Economic Corridor and the newly proposed China-Myanmar- Bangladesh economic corridor underscores the strategic importance China sees in the projects.
However, fighting organized crime is also a pressing issue.
"Qin Gang: China Hopes Myanmar Will Crack Down on Internet Fraud," was a headline appearing on the website of China's Foreign Ministry on the day after his meeting with Min Aung Hlaing and others.
"Qin Gang pointed out that Myanmar's border areas have long been home to gangs of telecommunications and internet fraud, which have seriously infringed on the interests of Chinese citizens and are abhorred by the Chinese public," the posting said. "The Chinese government attaches great importance to and is determined to crack down on that. China asks Myanmar to take concrete measures, attaches great importance to and is determined to crack down on that. China asks Myanmar to take concrete measures, coordinate efforts with various departments to continue advancing the China-Myanmar-Thailand joint combat operation, and rescue trapped Chinese nationals in a timely manner."
The mountainous northern part of that borders China is home to many ethnic minorities, including those of Chinese origin. It is home to rebel groups and the region has traditionally served as a refuge for Chinese criminals and dissidents. In recent years, the region has also become a major hub for online fraud targeting people in mainland China, forcing Beijing to become highly focused on the area.
The Foreign Ministry posting does not reveal details about on whom, when or where Qin asked Myanmar "to crack down." But it is possible China was in contact not only with military government officials, but also with ethnic minority and democratic forces opposing the government. This would highlight the seriousness of the issue for Beijing.
The Foreign Ministry announced that Qin had inspected the border area before arriving in Naypyitaw, suggesting the crackdown demand was an important theme of the visit.
In fact, the Chinese Foreign Ministry website still refers to previous President Win Myint, who was detained after the military takeover, as head of state, and Aung San Suu Kyi, who had been state counselor and foreign minister, as an important figure second to the president.
Acting President Myint Swe remains listed as vice president, and Min Aung Hlaing as commander in chief of the armed forces — and not the country's leader.
Official readouts of Qin's meetings and Chinese state-run media name Min Aung Hlaing Myanmar's leader, but do not use either his formal title of "chairman of the State Administration Council" or "interim prime minister."
This hints that Beijing has not officially recognized the change in government.
That leaves space for China to contact pro-democracy forces and ethnic minority groups opposed to military rule, allowing it to seek cooperation in combating online fraud while also securing Beijing's rights on issues such as the pipeline and ensuring the safety of its citizens. At the same time, it suggests that China is trying to bolster its negotiating position with the military government.
This perspective shows the delicacy of Beijing's diplomatic policy toward Myanmar. It clearly has no interest in Myanmar's return to democracy, but neither is it fully behind the military government.
Countries demanding the restoration of democracy in Myanmar are fundamentally opposed to China on this point. But keeping up communication with Beijing, and pursuing cooperation where possible, will be needed to seek a path toward peace and development in Myanmar.