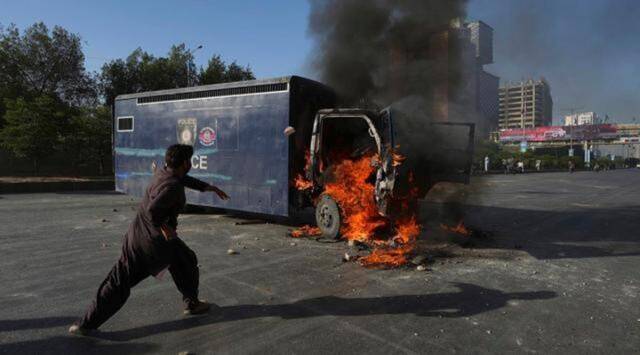 The events on May 9 in Pakistan were unprecedented. Huge mobs protesting against the arrest of former Prime Minister Imran Khan attacked and vandalised army establishments and state buildings. The ransacking of the most visible and sacrosanct symbol of the Pakistan army, the General Headquarters (GHQ) in Rawalpindi, signalled a breakdown, albeit temporary, of the security machinery. The situation could have turned calamitous as there were rumours of some senior commanders refusing to obey the orders of Army Chief General Asim Munir. Besides other ramifications of this chaos, there are also serious questions being raised about the security of Pakistan's nuclear arsenal.
The events and their aftermath amplified Pakistan's unstable and fragile security environment. There were reports of resignations and mass dismissals of senior army officers at the corps commander level after the May 9 uprising. The Lahore corps commander was removed, and many senior officers have reportedly resigned. A Pakistan army spokesperson came on a news channel to dispel the rumours about dismissals and resignations. The divide within Pakistan's military that came to the fore during and after the crisis does not augur well, particularly for the country's nuclear security safeguards.
Security concerns about Pakistan's nuclear weapons have troubled the international community for a long time. Among other threatening scenarios, the fear of rogue or disgruntled actors within the army gaining control of these weapons has been a constant concern. Experts have long claimed that the "insider-jihadi" collaboration poses the gravest threat to Pakistan's nuclear weapons. The brazen attacks on Mehran Naval Base in 2011, Kamra Airforce Base in 2012, and PNS Zulfiqar in 2014 were glaring examples of insider-jihadi collaborations. The ever-impending possibility of these two potentially dangerous elements coming together and acquiring a nuclear weapon is perhaps one of the most underappreciated threats to international peace and security.
Pakistan claims that its nuclear security is fool-proof. Given the country's complete opacity in sharing any nuclear security details, primary source materials that provide details about Islamabad's nuclear security measures are sparse. Yet, work done by independent nuclear watchdogs like Nuclear Threat Initiative (NTI) and Arms Control Association provides a fair account of its nuclear security measures.
Pakistan claims to have a robust Personnel Reliability Program (PRP), which evaluates the suitability of personnel assigned for the security of its nuclear installations and storage sites. PRP is said to be designed to identify extremist sympathisers and spy agents within Pakistan's nuclear security human resources. Site Security is another area where Pakistan boasts its progress. The series of attacks between 2011 and 2015 on Pakistan's vital defence installations drove Pakistan to augment its site security. The Nuclear Threat Initiative Report 2020 also showed that Pakistan had significantly improved its on-site security.
On the weapons security front, Pakistan claims to have upgraded and indigenised its Tamper Indicative Devices (TIDs) used to detect physical tampering and unauthorised access. Pakistan claims to have developed its indigenous Permissive Action Links (PALs) to prevent unauthorised arming and detonation of nuclear weapons. On transport security, there were reports that Pakistan, in order to avoid detection by enemy satellites and foreign intelligence agents, transported its nuclear material, including fissile material and warheads, in unmarked civilian vehicles with minimum security. This was potentially dangerous since it made these vehicles an easy target of terrorist attacks in case there of "insider info".
However, NTI's 2020 report indicates that Islamabad has made considerable improvements in the physical security of weapons and materials during transport.
Overall, Pakistan seems to have made considerable progress in its nuclear security — both physical and access control, though it is difficult to verify these claims independently. Still, the current security measures for its nuclear warheads and material may not be sufficient. There are limits to what physical security measures alone can do. The vulnerability of these weapons stems more from the structural deficiencies in the nation's governance mechanism, rather than inadequacies in the nuclear security measures.
Mere advancements in physical security and access control do not guarantee a robust security structure. Vulnerability does not alone arise from the likelihood of operational attacks on its weapon sites, but also from inherent structural deficiencies like a fragile security environment and unstable nuclear decision-making. Pakistan's shift toward tactical nuclear weapons complicates its decision-making process. Pakistan believes that the best way to deter a conventional attack by India is to asymmetrically escalate a conflict by threatening the first use of tactical nuclear weapons on advancing Indian forces once they cross the border into Pakistani territory, thereby achieving deterrence by denial.
Pakistan is, thus, forced to undertake such command and control procedures where these battlefield weapons need to be under the control of theatre commanders to make their first-use policy appear credible. Islamabad's heavy tilt towards using tactical nuclear weapons makes the entire edifice vulnerable to organisational breakdown, providing space to rogue elements within the armed forces to implement their nefarious designs. A May 9-like situation provides an opportunity for disgruntled senior or mid-level commanders or powerful non-state actors to take advantage of the fluid situation.
Adversarial capabilities do matter, but structural vulnerabilities may allow even less capable adversaries to achieve their goals. A fragile security environment amplifies organisational and decision-making vulnerabilities. Crises like the current one have the potential to threaten the unity of command within Pakistan. The reported differences within the Pak army may severely undermine its ability to stabilise the situation. The erosion of public trust in institutions can exacerbate the existing instability and lead to a complete collapse. It is under these circumstances that an insider rogue threat can actually materialise, rendering physical security measures meaningless.