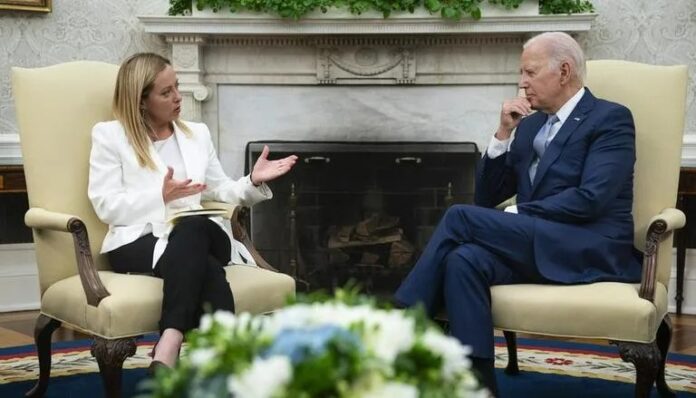 US President Joe Biden welcomed Italian Prime Minister Georgia Meloni and thanked her for her "strong support" for Ukraine in its ongoing war with Russia. This was Meloni's first visit to the White House after she assumed the office in October last year. The visit came as a shock since both Biden and Meloni have been on the opposing end of the ideological spectrum; however, both of them have been ardent advocates of conflict-stricken Ukraine. The Italian PM's visit came as the European nation prepares to take up the presidency of the Group of Seven (G7) nations next year.
The ideological differences were addressed when Meloni insisted that the relations between Italy and the US should remain strong regardless of the "political colours" of those in power. "Evidently, I'm in sync with the Republican Party," Meloni said at a press briefing following his meeting with Biden. "That doesn't impede me from having an excellent relationship with the US President," she added. The Biden administration felt at ease with this invitation because of Meloni's stance on the catastrophic Russia-Ukraine war. The White House is also pleased by the fact that Rome might halt its involvement in China's Belt and Road initiative, Beijing's global infrastructural project.
Biden, Meloni discuss Ukraine
"Italy and the United States are also standing strong with Ukraine, and I compliment you on your very strong support in defending against Russian atrocities, and that's what they are," Biden told Meloni as the two sat down in the White House. "And I thank the Italian people. I want to thank them for supporting you and supporting Ukraine. It makes a big difference," he added. In a joint statement, both leaders reaffirmed that they are committed to maintaining support for Kyiv "as long as it takes." "The United States and Italy will continue to provide political, military, financial, and humanitarian assistance to Ukraine for as long as it takes, with the aim to reach a just and lasting peace that fully respects the UN Charter and Ukraine's sovereignty and territorial integrity," the statement reads. The two leaders discussed Italy's upcoming G7 presidency, stability in the Indo-pacific, creation of "new space dialogue," etc.
China's Belt and Road Initiative crux of the tensions between the US and Italy
In 2019, Italy became the first and the only G7 country to sign up to assist China's international infrastructure-building Belt and Road Initiative, which had upset many in Washington. During her Thursday conversation with Biden, Meloni hinted that Italy might reconsider its involvement with the initiative as its term expires in March 2024. "I discussed Belt and Road deal with Biden but the US approach is not to dictate our China policy," she told reporters following her meeting with Biden. She insisted that the United States is Italy's "most important trade partner" outside the European Union.