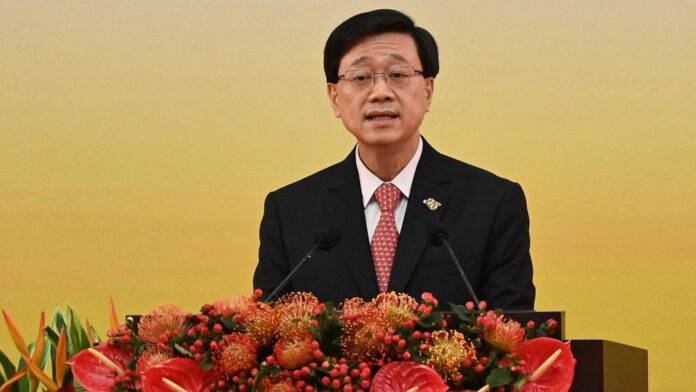 Hong Kong, Jul 28: The Chinese government on Friday demanded the United States invite Hong Kong's leader to an economic conference following a news report that Chief Executive John Lee would be barred due to his role in crushing the city's pro-democracy movement.
The conflict threatens to complicate Washington's efforts to revive relations that are at their lowest level in decades due to disputes about security, technology, human rights and other irritants.
The Washington Post, citing unidentified U.S. officials, said Lee would be barred from the Asia-Pacific Economic Cooperation meeting in San Francisco in November due to sanctions imposed on him in 2020. Lee oversaw the crackdown as Hong Kong's top police official before he was named chief executive last year.
The United States and other governments have accused Beijing of violating promises of autonomy and Western-style civil liberties after the former British colony returned to China in 1997.
The foreign ministry demanded Washington lift the "illegal and unreasonable" sanctions on Lee, which it called "bullying that seriously violates the basic norms of international relations." It accused Washington of "undermining the solidarity and cooperation" of the regional forum.
"We demand that the U.S. side immediately correct its wrong move, lift the sanctions against the chief executive and other officials of the SAR, fulfil the due responsibility as APEC host, invite Chief Executive John Lee Ka-chiu to the meeting," said a ministry spokesperson, Mao Ning.
Lee's office in Hong Kong said the United States is "obliged to fulfil its basic responsibilities as a host" and should follow the usual APEC practice by inviting him.
"APEC meetings do not belong to any country or economy," the office said in a statement.
The Washington Post cited U.S. officials as saying Hong Kong could send another representative to APEC.
Washington has launched a flurry of diplomatic missions to restore dialogue suspended by Beijing, mainly over U.S. support for the self-governing island democracy of Taiwan, which the mainland's ruling Communist Party claims as part of its territory.
Officials including Secretary of State Antony Blinken, Treasury Secretary Janet Yellen and climate envoy John Kerry have traveled to China for meetings.
Chinese officials have demanded concessions, including changes in U.S. dealings with Taiwan, but have given given no indication Beijing might change trade, strategic or other policies that irk Washington and China's Asian neighbors and other trading partners.
In a July 20 meeting with Henry Kissinger, a former U.S. secretary of state who has been used by Beijing to convey messages to Washington, Chinese leader Xi Jinping said both sides need to make decisions that could result in stable ties and joint success and prosperity.