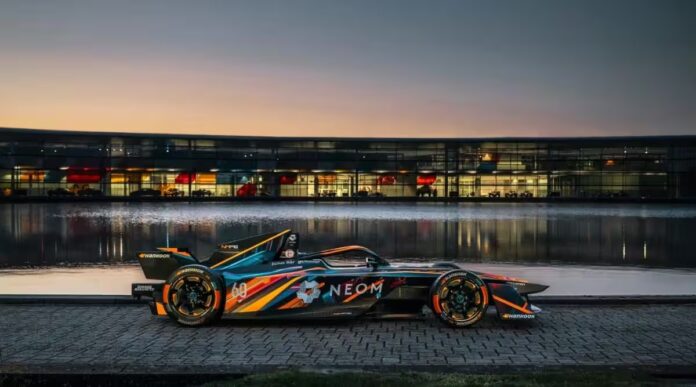 London, Jul 28: Jake Hughes, driving GENBETA, a Formula E electric race car, broke the indoor land-speed world record with a top speed of 218.71 kmh, setting a new mark in the Guinness World Records title.
The existing land-speed record was 165.2 kmph, set in February 2021.
Hughes of Britain, who was driving for the McLaren Formula E Team, went head to head against Lucas di Grassi of the Mahindra Racing team in the 'Duels' format.
Both Hughes, who was racing in his first season of Formula E, and Di Grassi were using a similar GENBETA car.
Di Grassi gave a close fight to Hughes, clocking 218.18 kmph.
In addition to technology innovations on the GENBETA car, Google Cloud provided generative artificial intelligence (AI) for analysis of the drivers' runs.
Using their leading platform, Vertex AI, Hughes and Di Grassi were able to interpret real-time telemetry data to generate speed, power and grip recommendations. This gave them the ability to interact and converse with an interface to help fine tune their approach across their three attempts.
Experts from McKinsey & Company, led by its AI arm, QuantumBlack, built data and analytics components to create the driver interface that analysed and queried data in real time through generative AI for the record attempt.
An adjudicator from Guinness World Records monitored the attempts to ensure the drivers met strict criteria. To set the official indoor landspeed record, the GENBETA car had to set off from a static start and come to a complete halt inside one continuous building structure.
The drivers started from a standstill inside the ExCeL London events arena and navigated a 130-degree turn at around 40 km/h before quickly accelerating along the 346m straight of the race track.
The indoor straight is part of the 2.09km track which is unique in world motorsport for extending inside and outside the 100,000 sq/m ExCeL London events arena in the Docklands area of east London which will host the final two races in the ABB FIA Formula E World Championship tomorrow (Saturday) and Sunday.
Their speed was measured by a sophisticated speed trap system at a fixed point just five metres before the drivers entered the braking zone – the length of track needed to come to a complete stop and remain inside the building.
World record holder Hughes said: "It wasn't something I ever imagined I'd have the opportunity to even attempt, so now to hold the record is pretty incredible, especially in a Formula E car.
"I didn't realise how much I wanted this record until I saw Lucas (Di Grassi) trying to break the record after me. When I was announced I was the record holder I felt a massive sense of pride."