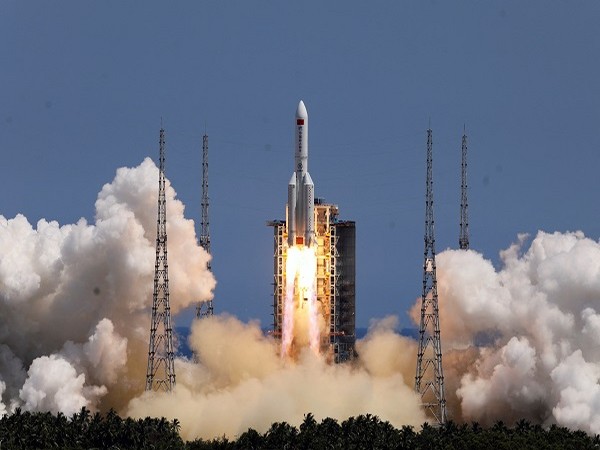 Taipei [Taiwan], April 17: China launched a satellite into orbit with some rockets debris falling into a "no-fly zone" off the coast of northern Taiwan, Taiwan's Ministry of National Defense said adding that it did not pose a safety threat, reported FocusTaiwan.
In a statement, Taiwan's Ministry of National Defense said that the forces had monitored the whole process of the rocket launch through joint intelligence and surveillance.
Notably, China informed Taiwan that a no-fly zone will be implemented north of the country the following week, NHK World reported, citing Taiwan's transportation ministry on April 11.
The no-fly zone, located 85 nautical miles north of Taiwan and within the Taipei Flight Information Region, was marked out for a 27-minute period from 9:30 a.m. to 9:57 a.m. Sunday because of the possibility of falling rocket debris, according to FocusTaiwan.
Earlier, China reportedly warned Taiwan's northern flight information zone of the upcoming airspace closure, to conduct aerospace activities in the area.
China said the duration would be five hours per day from April 16-18. However, it will be reduced to about half an hour on only April 16, following the complaint lodged by Taiwan's ministry.
The transportation ministry cautioned that the shutdown was inappropriate and would provide significant and unnecessary safety hazards in its complaint against China.
China intends to block airspace over the high seas north of Taiwan, according to Taiwan's defence minister, who stated that defence officials will closely monitor Beijing's aerospace actions, which may include a potential satellite launch, according to NHK World.
As tensions between Taiwan and China continue to escalate, Taiwan recently tracked the People's Liberation Army's 18 aircraft and 4 naval ships from 6 am on Monday (April 10) to Tuesday (April 11).
In an official release, Taiwan's Defence Ministry stated, "18 PLA aircraft and 4 PLAN vessels around Taiwan were detected by 6 a.m.(UTC+8) today. 4 of the detected aircraft had entered Taiwan's southwest and southeast ADIZ. R.O.C. Armed Forces have monitored the situation and tasked CAP aircraft, Navy vessels, and land-based missile systems to respond to these activities."