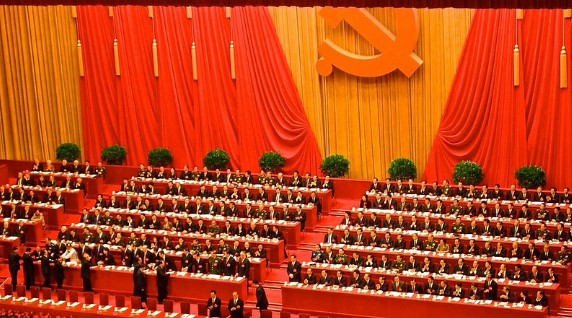 Chinese Premier Li Keqiang took a dig at President Xi Jinping and the comments were censored on WeChat. Beijing displayed nuclear-capable missiles during Nancy Pelosi's visit. Heatwaves and power shortages were observed across China. New unemployment data for July paints a grim picture for the Chinese economy. Chinascope gives you a deep dive into current affairs from China —and the world.
China over the week
After almost two weeks of disappearing from the public, Communist Party chairman Xi Jinping reemerged during a trip to Liaoning. The two-week disappearance suggests that Xi Jinping was in the seaside resort at Beidaihe for the annual conclave where bargaining for power goes on behind the scenes.
The visitors and residents in Beidaihe suggested tight security over the last weeks, indicating the meeting was held and concluded without any public attention – as is always the case with the secretive Beidaihe conclave.
Liaoning, where Xi reappeared, is just four hours north of Beidaihe. While he was there, Xi called for the revitalisation of China's northeastern regions — often described as the country's rustbelt.
"The Party Central Committee attaches great importance to the revitalisation of the Northeast. Since the 18th National Congress of the Communist Party of China, the CPC Central Committee has implemented the strategy of in-depth promotion of the revitalisation of the Northeast," Xi said during his inspection tour.
As Xi toured (Shenyang city), Premier Li Keqiang visited Shanghai and Shenzhen. In Shanghai, Li paid respect to the statue of Deng Xiaoping at the Lianhuashan Park in Shenzhen.
Li's remarks in Shenzhen appeared to be taking a dig at Xi's economic policies.
"China's opening will continue. The Yellow River and the Yangtze River will not flow backwards," said Li Keqiang while visiting Yantian Port. The Premier's comments were loaded with the allegory of China's success story and the challenges the country faces now. The comment about the two rivers not turning back was censored on WeChat.
"It is necessary to continue to play a leading role in reform and opening up and play a leading role in the economy and make greater contributions to national development," Li had added.
The symbolism of visiting Lianhuashan Park and the remarks in Shenzhen have started a debate within the China watchers' community. Some read Li's comments as suggesting a contest for power with Xi, but others weren't so convinced.
"The fact Li's actions and words were either treated cursorily by Party-state media or censored altogether is an indication of the power dynamics and foreshadows Li's future," wrote Adam Ni in a Twitter thread.
Li is likely to retire, as many have suggested, and a new premier may have been picked during the Beidaihe meeting. "Contrary to what some may want to believe, there is no contest between Xi and Li. Xi will get his third term, and Li will retire," Ni added.
Fewer jobs, higher temperatures
In July, the unemployment rate for youth aged between 16-24 was 19.9 per cent, according to China's National Bureau of Statistics. It means that 1 in 5 youth between the age of 16-24 is unemployed. The statistic tells another story about recent Chinese university graduates. The year 2022 will see the biggest number of graduates enter the job market, which is on shaky ground.
"Graduates can't find their desired jobs," said Xiaodong Gong, associate professor and labour specialist at the University of Canberra.
As economic prospects turned sour, China's smartest youth are hunting for stable jobs in the Chinese Communist Party's vast bureaucracy. Harry Wang, a recent graduate from Tianjin Foreign Studies University, decided to turn down job offers from leading companies such as AstraZeneca and ByteDance to pursue his ambition of becoming a civil servant.
If the alarming unemployment rate wasn't enough, China experienced the strongest heatwave since 1961.
"As of August 15, this high temperature event has lasted for 64 days, the longest duration since 1961 (more than 62 days in 2013); 1680 stations were covered above 35°C, and 1426 stations were covered above 37°C, both of which were the first in history," reported State-owned CCTV.
The heatwave has had an impact on the energy supply in some of China's provincial cities, including Chengdu. Businesses and factories had to halt work because of power cuts in Chengdu as temperatures rose above 40°C.
Anti-US commentator has house in US
China's popular pro-CCP nationalist commentator, Sima Nan, has come under attack for revealing that he owns a house in the US. Sima Nan, whose original name is Yu Li, has built a reputation in China by attacking the US on TV panels hosted by the national broadcast. Sima is one of the "BigV" commentator with over three million followers on Weibo.
According to a reporter from New Yellow River, Yu has been banned from posting on multiple social media platforms for now.
Pelosi has inspired others
Following Nancy Pelosi's visit to Taiwan, experts have been trying to analyse Beijing's response. An aspect of the military response that has gone unnoticed is the People's Liberation Army (PLA) deploying DF-5B missiles to signal at the US and Japan.
Multiple videos surfaced on Chinese social media around the time of Pelosi's visit, which show Beijing transporting other road-mobile DF-27, DF-16 and DF-15B. Unlike what some commentators observed in the early days, Beijing did engage in nuclear-level signalling meant for Taiwan, the US and Japan.
"It is aimed at warning the US and its close ally Japan not to intervene in the Taiwan issue, reminding them Beijing has the most powerful weapon that could [them] a deadly strike," said Yue Gang, a retired PLA colonel.
Beijing appears to be now learning from Putin's nuclear threat against Ukraine.
"Putin's experience inspired Beijing that it's a workable strategy to stop the US and Japan's possible intervention in a future Taiwan contingency," added Yue in an interview with South China Morning Post.
China in world news
India-China relations are strained by many accounts, but Foreign Minister S. Jaishankar's recent remarks about the 'Asian century' were appreciated in China.
"But the Asian century will be difficult to happen if India and China don't come together. And one of the big questions today is where India-China relations are going," said Jaishankar in Thailand.
In response, Chinese foreign ministry spokesperson Wang Wenbin said, "As a Chinese leader put it, 'Unless China and India are developed, there will be no Asian Century'. No genuine Asia-Pacific Century or Asian Century can come until China, India and other neighbouring countries are developed."
Meanwhile, India's veteran diplomat and leading China expert, Shivashankar Menon, has some suggestions for resolving border tensions.
"The limited goal to begin with would be to establish predictability in the relationship, and to ensure, to the extent possible, that there are no surprises from either side. The only way I know of doing this is a serious dialogue on the border which then moves on to other issues that divide the countries," wrote Shivashankar Menon, former foreign secretary, in an opinion article for South China Morning Post.
After Nancy Pelosi's action-packed visit to Taiwan, MPs from other countries are vying to repeat her success. There are rumours that a British delegation of MPs led by Tom Tugendhat will visit Taiwan soon. A delegation of Canadian MPs and senators who are part of the Canada-Taiwan Friendship Group are planning a visit to Taiwan sometime in early October. Now, Canadian Prime Minister Justin Trudeau has warned the parliamentarians about the consequences of their potential visit to Taiwan.
"There are significant reflections going on right now. Canada has a long-standing position around China and Taiwan that we will ensure to respect," said Trudeau.
On Saturday, Yasmeen Abutaleb and Tyler Pager reported for The Washington Post that Xi Jinping had asked Biden to stop Pelosi from visiting Taiwan. But unlike Trudeau, Biden didn't issue a warning to Pelosi and her delegation. Biden was right and Trudeau is wrong.
Meanwhile, India has recently reiterated its position on the 'one-China policy' by saying "India's relevant policies are well known and consistent. They do not require reiteration".