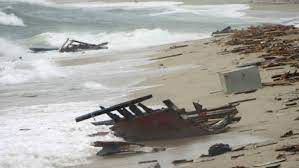 Cutro, Italy: At least 59 migrants, including 11 children and a newborn baby, died after their overloaded boat sank in stormy seas off Italy's southern Calabria region, officials said.
"As of a few minutes ago, the number of confirmed victims was 59," Vincenzo Voce, mayor of the coastal city of Crotone, told.
Crotone's rescue centre said 12 of the 59 victims were children, including a newborn, and 33 were women, according to AGI news agency.
Italian coastguards said the overloaded vessel broke up in violent waves off Crotone, with one officer reporting that a suspected people smuggler had been arrested by the security forces.
Wooden debris was strewn across around 100 metres of beach, where many rescuers were deployed.
Rescue workers told that the vessel was carrying "more than 200 people".
"Calabria is in mourning after this terrible tragedy," regional governor Roberto Occhiuto said.
Far-right Prime Minister Giorgia Meloni, who came to power in October vowing to stem the flow of migrants reaching Italian shores, said "The government is committed to preventing (migrant boat) departures and, with them, this type of tragedy."
'Eradicate the causes'
President Sergio Mattarella said: "A large number of these migrants came from Afghanistan and Iran, fleeing very harsh conditions."
He urged the international community "to make a strong commitment to eradicate the causes of these migrations — wars, persecution, terrorism, poverty."
The government in Rome has accused its European Union partners of not taking in sufficient numbers of migrants seeking to enter the bloc.
This week Meloni's right-wing coalition government pushed through parliament a controversial new law that forces migrant aid charities to perform only one life-saving rescue mission at a time.
Critics say the measure violates international law and, by cutting the number of rescue ships able to operate, will result in more people drowning in the central Mediterranean, which is considered the most dangerous crossing for people seeking asylum in Europe.
On Sunday the United Nations and the European Commission chief urged countries to agree fairly on ways to share out responsibility for people fleeing conflict and poverty for what they hope will be a better life in Europe.
"Time for states to stop arguing and to agree on just, effective, shared measures to avoid more tragedies," UN High Commissioner for Refugees Filippo Grandi said.
European Commission President Ursula von der Leyen called for progress on a stalled reform of EU rules on providing asylum for those in need.
"We must redouble our efforts on the (EU) Pact on Migration and Asylum and on the Action Plan on the Central Mediterranean," she said.
'Punished for saving lives'
Meloni, leader of the far-right Brothers of Italy party, said it was "criminal to put a boat of barely 20 metres to sea with 200 people on board and a bad weather forecast".
She demanded collaboration from migrants' home countries and states from where they embark on their perilous sea crossings.
A large proportion of people seeking to reach European shores cross the Mediterranean from Africa to Italy.
According to the interior ministry, nearly 14,000 migrants have arrived in Italy by sea so far this year, up from 5,200 over the same period last year.
Charities rescuing people in danger at sea bring only a fraction of migrants ashore.
Most of those who are rescued are plucked from the dangerous waters by Italian coastguards or the navy.
Despite this, Meloni's government has said rescue charities encourage migrants to attempt the crossing and boost the fortunes of human traffickers.
On Thursday, Italian authorities impounded a migrant rescue vessel belonging to medical charity Doctors Without Borders (MSF) for allegedly breaking the new law on life-saving missions in the Mediterranean.
"It's unacceptable to be punished for saving lives," MSF said, adding that it was considering a possible legal challenge.
"People in difficulty at sea should be rescued, whatever the cost, without penalising those trying to help them," centrist former economy minister Carlo Calenda said on Sunday.