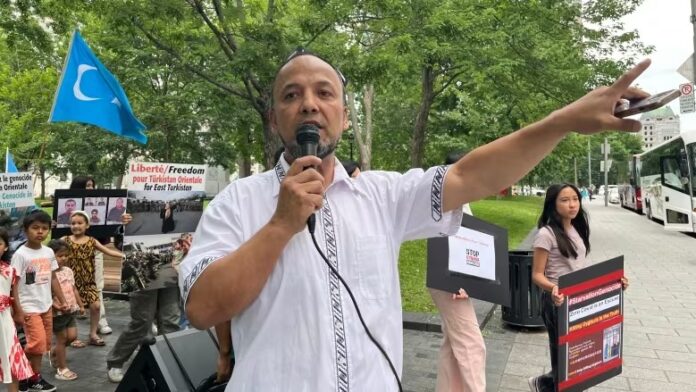 Bakhtiar Semseddin's phone rang incessantly Sunday morning with spam calls as the founder of the Montreal-based International Support for Uyghurs (ISU) got ready to lead a march through the city's downtown.
He says this kind of harassment happens every time he organizes an event bringing awareness to the oppression of Uyghurs and other Turkic Muslims by the Chinese government — actions dozens of experts have said amount to genocide.
If he answers the phone, he says he's likely to hear threats against his family who are still living in the Xinjiang Uyghur Autonomous Region in northwestern China, or as he calls it, occupied East Turkestan.
But, Semseddin, who moved to Canada in 2008, says he doesn't plan on stopping.
"It's not only for my family, it's for all Uyghurs … for their human rights," said Semseddin as other Uyghurs congregated in Montreal's Dorchester Square. "If I stop it, they're going to continue."
The group marched until Place des Arts Sunday afternoon to commemorate the 14th anniversary of the Ürümqi riots, which took place in Xinjiang's capital on July 5, 2009.
Students were protesting the deaths of two Uyghur factory workers when riots erupted in Ürümqi, shining a spotlight on ethnic tensions between Mandarin-speaking ethnic Chinese people — the Han — and Uyghurs, a mostly Muslim, Turkic-speaking ethnic group. The unrest, including intervention by Chinese paramilitary police, left around 200 people dead.
The event showed the Uyghurs how precarious their situation is in China, according to Kyle Matthews, the executive director of the Montreal Institute for Genocide and Human Rights Studies at Concordia University.
Kalbinur Semseddin, Bakhtiar's wife, was also present at the protest.
She says the mistreatment she experienced more than 20 years ago forced her to relocate to Montreal in 2001. Both of her brothers, who stayed behind, were eventually arrested in 2007 and in 2017.
The last time she was in contact with them was in 2016. She's also since lost touch with their families.
"Even though I have a full-time job here, even though I studied here, I want to help them. I can support them, I can do everything for them, but I can't. I'm unable to do it," she said.
Gesturing at Sunday's crowd in Dorchester Square, Kalbinur said most of the families present were in the same situation.
Canadian government can do more, says activist.
After a vote in 2021, the House of Commons accused the Chinese government of perpetuating a genocide against the Uyghur ethnic minority. A similar motion was presented to the Senate a few months later but was ultimately defeated.
More recently, the House of Commons voted to urge Canada to resettle 10,000 displaced Uyghurs and other Muslims of Turkic origin who have already fled China and are waiting in limbo in third countries.
Treatment of Uyghurs may constitute crimes against humanity, says UN human rights office
Senators decline to label China's treatment of Uyghurs a genocide
Semseddin says he's happy with the news but wishes the Canadian government would do more, such as block products made with forced labour from Uyghurs held in camps.
These include cotton products and tomatoes, according to Matthews. The Canadian government says Xinjiang also produces about half of the world supply of polysilicon, a material used in a wide range of electronic products such as solar panels.
Global Affairs Canada issued an advisory raising awareness about human rights violations in Xinjiang that pose a number of risks that Canadian firms operating in and doing business with China "should carefully consider."
"It's going to take a long process of naming and shaming and coming up with new policies to try to get a change in the government's behaviour," said Matthews.
In the meantime, Semseddin says he will continue organizing and spreading awareness, including sending a newsletter to Canadian MPs every week.
"We would like for our people to have a good life like Canada," he said.
CBC reached out to the Chinese consulate for comment but did not receive a response.