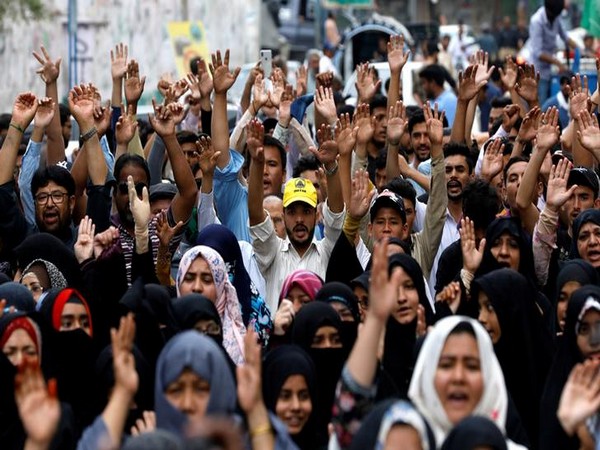 Balochistan [Pakistan], April 5: The year 2022 was full of misery and fear for the people of Balochistan as the Pakistan government and military continued to abuse human rights in a multitude of ways. A drastic rise in enforced disappearance and extrajudicial killing was recorded throughout the year, according to the Human Rights Council of Balochistan.
The Human Rights Council of Balochistan is a non-profit group based in Balochistan, Sweden and France. The group works to shed light on the human rights situation in Balochistan.
According to the human rights group, the worsening plight of families of enforced disappearances continued as the dead bodies of their loved ones continued to appear in desolated areas despite continuous protests and demonstrations and assurances from the government.
The cruel onslaught against religious minorities continues while the state remains a silent spectator without taking action to curb terrorism. The vicious crackdowns against dissenting voices in Gwadar, Kech, Karachi, Islamabad, and Quetta and framing them in fake cases turned Balochistan into a much darker and more unstable place, according to HRCB.
Throughout 2022, police brutality continued in the province. Illegal house raids, framing victims of enforced disappearance in fake cases, killing of victims of enforced disappearance in fake encounters, intimidation, harassment, and use of excessive force on peaceful protests.
Abdul Hafeez, a businessman to Pakistan was illegally detained and deported by the UAE. He was framed in a bogus case in Sindh and later the Anti-Terrorism court acquitted him of all the fabricated charges. Other activists were also detained for questioning by UAE officials and later released.
The Army and frontier corps continued to forcibly disappear and extra-judicially kill civilians during operations with absolute impunity. In some cases, forces summoned people to camp and later tortured them to death. Under the policy of Collective Punishment arrests of women, children, and elderly people was also recorded in 2022, as per HRCB.
The Baloch students continued to face intimidation, harassment, racial profiling, and enforced disappearances in other provinces as well as Balochistan, particularly in educational institutions. The government not only failed to ensure their protection but also appealed against the Islamabad High Court's decision to probe into the racial profiling of Baloch students.
The families of victims of enforced disappearances continued their protest demonstrations for the safe release of their loved ones in different cities throughout the year despite police's use of excessive force and booking them on fabricated charges. Despite assurances from the Interior minister and law minister, bullet-riddled dead bodies of victims of enforced disappearance continued to appear in the desolated areas, as per HRCB.