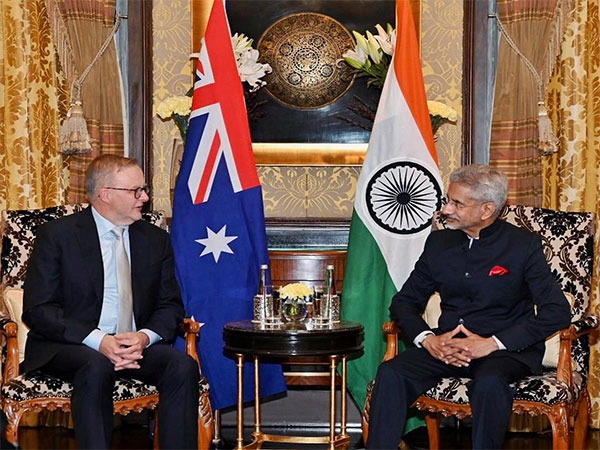 New Delhi [India], March 10: External Affairs Minister S Jaishankar on Friday met Australian Prime Minister Anthony Albanese. The EAM said Albanese's visit and today's annual summit will take India-Australia ties to a higher level.
"Delighted to call on Prime Minister @AlboMP of Australia this morning. His visit and today's Annual Summit will take our ties to a higher level," Jaishankar tweeted on Friday.
Australian PM Albanese on Wednesday arrived in Ahmedabad on a state visit to India.
The Australian Prime Minister who is on an official visit to India from March 8-11, was welcomed by the Gujarat Chief Minister Patel.
Albanese on Friday paid tribute to Mahatma Gandhi at Rajghat in New Delhi. He was accorded a ceremonial reception at the forecourt of Rashtrapati Bhavan.
Prime Minister Modi welcomed Albanese at the Rashtrapati Bhavan.
The Australian PM inspected a Guard of Honour.
Addressing a press conference after a ceremonial welcome at the forecourt of Rashtrapati Bhawan in Delhi, the Australian PM thanked PM Narendra Modi for a very warm welcome in India and said that the two countries are partners and building that partnership even stronger each and every day.
"I thank PM Modi, for a very extraordinarily, generously and warm welcome here. Australia and India are great friends. We are partners and we are building that partnership even stronger each and every day," said Albanese.
"I led a delegation here of significant business leaders as well. We want to cooperate with India and build a relationship in culture, economic relations as well as in the area of security," he said
Albanese further said that both countries are cooperating to make a better world as the cricket teams of both countries are competing to be the best in the world.
"We are competing on the cricket field to be the world's best but together we are building a better world," the Australian PM said.