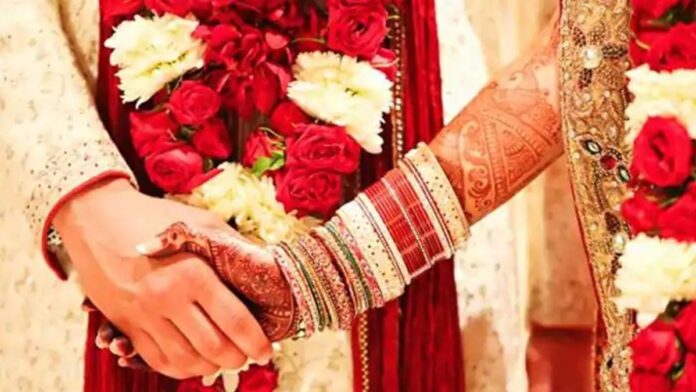 Karachi, Feb 24: The intriguing story of how a "shy" teenage Pakistani girl travelled on her own to Bengaluru to meet and marry an Indian man was revealed by her uncle who said she sold her jewellery and borrowed money from friends to buy air tickets to Dubai and onwards to Kathmandu from where she crossed into India.
The girl, identified as Iqra Jeevani, was recovered last month from Bengaluru where she was living with a Hindu man, Mulayam Singh Yadav, who is now in jail. She was handed over to the Pakistani authorities on Sunday at the Wagah border.
They met online and fell in love and later decided to get married.
Following this, she reached Nepal a few months ago and they got married.
Family sources in Pakistan's Sindh province, who didn't want to be named, claimed Iqra had returned home after her father, uncle and mother went to Lahore to receive her after Indian authorities handed her over to their Pakistani counterparts.
The intriguing story started in September last when Iqra went missing after going to college.
Requests to speak to Iqra were not successful but her father, Sohail Jeewani, said the matter was now closed forever.
"We still don't know how she could muster up the courage to go to India by herself. She has always been a shy girl. We are as mystified as everyone else," he said.
One family source said the family was still to recover from the shock of what took place in the last four months.
Questions still remain over how the 16-year-old Iqra managed to travel from Karachi to Dubai then to Kathmandu and from there to India.
"And she undertook this long and dangerous journey because she had fallen in love with an Indian man who she thought was a Muslim software engineer Sameer Ansari," the family source said.
Ansari in reality was 26-year-old Mulayam Singh Yadav, a security guard in Bengaluru whom Iqra met while playing online Ludo games.
Iqra sold her jewellery and borrowed money from her college friends to buy air tickets to Dubai and onwards to Kathmandu from where Yadav, from Uttar Pradesh, had arranged for her to be brought into Bengaluru via the India-Nepal border where he met her and took her to his home.
Her uncle, Afzal Jeewani, said Iqra went to Dubai and then to Kathmandu as she couldn't obtain a visa for India.
Iqra was only recovered by the Indian police after neighbours in the locality where Yadav took her complained to the police after seeing her offering prayers, he said.
"Some of the neighbours got suspicious when they saw a girl offering namaz in a Hindu's home as she was living there under the Hindu name of Rava," Afzal said.
He also confirmed that Indian police had recovered Iqra soon after the complaint but kept her in a shelter home where she was questioned by police and intelligence people about how she got into India.
Yadav even got an Aadhaar card done for Iqra after changing her name to Rava and later she even applied for an Indian passport.
"But we are thankful to the Pakistan and Indian governments for helping us in recovering her and ending this terrifying chapter for us," Afzal said.
He said the girl has constantly been asking for forgiveness since her return to Pakistan. He claimed that the Indian man had deceived his niece by posing as a Muslim boy when the two met on social media while playing online Ludo games.
The Jeewani family, which has a business in Shahi Bazar in Hyderabad city in the southern Sindh province, said Iqra realised her blunder after reaching Bengaluru and meeting Yadav as she started calling her mother on WhatsApp to inform her about everything.
A senior police official said the family informed them about the call and they got in touch through the required channels with the Pakistan foreign office who then contacted their Indian counterparts to help find and recover the girl.
Dr Fatima Sehgal, a psychiatrist who specialises in addiction and the effects of social media, told PTI that Iqra's case was not a big surprise to her as such is the power of online friendships.
"When someone, especially a girl, comes from a conservative family background and is an introvert he or she is easily enticed into friendships on online platforms and they develop a very strong trust, bond and at times even love with someone they have met online," she said.
Fatima said that when such a girl or boy befriends someone who listens to them, patronises them and expresses love for them they start visualising a film-like future with them.
"That is why it is so necessary for parents these days to learn about the bad effects of social media and use them in their parenting," she added.