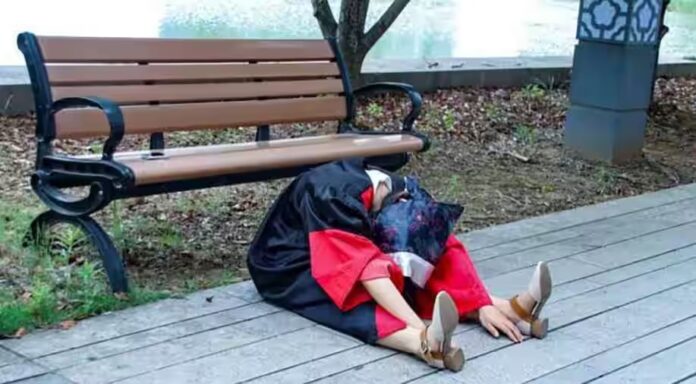 A new trend in China is encouraging fresh graduates to post their pictures online showing themselves 'more dead than alive.' Photos showing students slumped over a chair, collapsed against a wall and prostrated on the ground wearing their graduation gowns have been making rounds on the internet. Although they are not harmed physically, the students believe such pictures better reflect the tough realities they face.
Why are Chinese students posing like corpses?
Under Xi Jinping, the economy has been put on the back burner by the country's top policymakers and has been replaced by security. China's crackdown on the private sector has inflicted massive harm on the country's tech and education sector, which has stressed the job market like never before. China's private sector accounts for 80 per cent of total jobs nationwide, and it has been ravaged by China's now-abandoned Zero-Covid policy.
In China, a record 11.6 million fresh college graduates will enter the job market this summer, and they know their career prospects are bleak. In May, the unemployment rate in urban China reached a staggering 20.8 per cent. The influx of new job-seekers will only exacerbate the unemployment crisis in the country. That's the new challenge the Chinese students must brace for, who feel already exhausted after having borne the brunt of the gruelling Chinese education system.
College degrees becoming less valuable
With more and more job-seekers entering the market every year, college degrees are becoming less valuable for employers. This has led to more students in China now pursuing Master's and PhD in hopes of gaining an edge over others, but that doesn't guarantee a job either.
CNN quoted a Chinese PhD student Li Nian as saying that most of the students studying PhD are depressed. Li says, "Maybe everyone studying for a PhD is very depressed. There was a popular saying not long ago that anyone studying for a PhD is crazy."
Gloomy days ahead for the Chinese economy
A higher unemployment rate and a frustrated youth population are only going to pile misery on the Chinese government and economy. The young population is often responsible for driving the markets up in good-performing economies. They spend on rent, transportation, education, communication and lifestyle. Simply put, a country with a moneyless young is more likely to see its major economic pillars coming crashing down.
As the frustration among its youth grows, some have even vowed to be the "last generation" in China as a way of registering their protest.