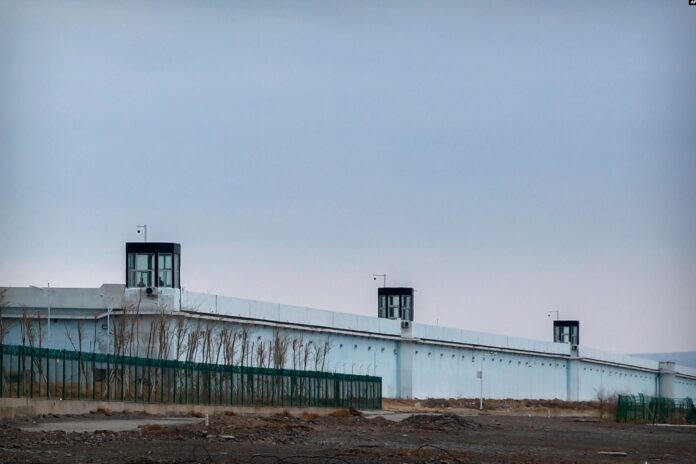 An area of western China may have the highest known imprisonment rate in the world.
The area is called Konasheher county. It is in China's Xinjiang Uyghur Autonomous Region. Nearly 1 in 25 people in the county has been sentenced to prison on terrorism-related charges.
Most of the county's population is Uyghur, a mainly Muslim, Turkic ethnic minority. Reporters with The Associated Press received and examined a list with the names of more than 10,000 Uyghurs sent to prison in Konasheher. A Xinjiang expert received the list from an unnamed source. The source is a self-described member of China's Han Chinese majority "opposed to the Chinese government's policies in Xinjiang." The list was passed to The AP by Abduweli Ayup, a Uyghur language specialist living in exile in Norway.
The AP confirmed the list through talks with eight Uyghurs who recognized 194 people on the list. The AP also examined legal notices, recordings of phone calls with Chinese officials and checks of addresses, birthdays and identity numbers.
The list of names
In recent years, China has carried out a severe crackdown on the Uyghurs, which it has described as a war on terror. The list represents the size of China's government campaign that has sent a million or more people to internment camps and prisons.
The list also confirms what families and rights groups have said for years: China is depending on a system of long-term imprisonment to sharply control Uyghurs.
Following strong international criticism, Chinese officials in 2019 announced the closure of short-term internment camps where Uyghurs were detained without charges. However, thousands of Uyghurs remain for years in prison on what experts say are false charges of terrorism.
Uyghur farmer Rozikari Tohti was known as a soft-spoken, family-loving father of three children. He had little interest in religion. His cousin, Mihrigul Musa, was shocked to discover Tohti had been kept in prison for five years for "religious extremism."
"Never did I think he would be arrested," said Musa, who now lives in exile in Norway. "If you saw him, you would feel the same way."
From the list, Musa found out Tohti's younger brother Abilikim Tohti also was sentenced to seven years on charges of "gathering the public to disturb social order." Tohti's next-door neighbor, a farmer called Nurmemet Dawut, was sentenced to 11 years on the same charges.
The prison sentences across Konasheher county were for two to 25 years, with an average of nine years, the list shows.
Claims of terrorism, extremism
The list offers the widest and most detailed look yet at who is in prison in Xinjiang. It does not include people with usual criminal charges. Rather, it centers on offenses related to terrorism, religious extremism or unclear charges traditionally used against political dissidents. This means the true number of people imprisoned is very likely higher.
But even at a low estimate, Konasheher county's imprisonment rate is more than 10 times higher than that of the United States. It is also more than 30 times higher than the rates in China as a whole.
Darren Byler is an expert on Xinjiang's mass imprisonment system. He said most arrests were outside the law, with people detained for having family members overseas or for downloading certain cell phone applications.
"It is really remarkable," Byler said. "In no other location have we seen entire populations of people be described as terrorists or seen as terrorists."
China has struggled for years to control Xinjiang, where Uyghurs have long disliked the government's heavy-handed rule. After the September 11 terrorist attacks in the United States, Chinese officials began using terrorism as an excuse to justify extreme controls.
The crackdown strengthened in 2017, after a series of knife attacks and bombings carried out by a small number of Uyghur militants. The Chinese government defended the mass detentions as both lawful and necessary to fight terrorism.
In 2019, Xinjiang officials declared the short-term detention camps had closed. They said that everyone they had described as "trainees" had "graduated." Visits by Associated Press reporters to four former camp sites confirmed that they were shut down or turned into other kinds of centers. But as the camps closed, the prisons expanded. At least a few camps were turned into centers for incarceration.
Over the last eight years, experts say, Chinese officials expanded the definition of extremism to include marks of religion such as growing a long beard or wearing a head covering called a veil.
Some charges for prisoners on the list are new and special to Xinjiang, such as "preparing to carry out terrorism." The charge was newly defined in 2016.
Speaking out
Abduweli Ayup, the Uyghur exile who passed the list to the AP, has closely documented the ongoing repression of his community. But this list shocked him: On it were his neighbors, a cousin, and one of his high school teachers, Adil Tursun.
Ayup said Tursun was the only one in his high school who could teach Uyghur students in Chinese. Every year, the students from his class had the best chemistry test scores in the town. He was a Communist Party member and considered a model Uyghur by the government.
"The names of the crimes, spreading extremist thoughts, separatism…these charges are absurd," Ayup said.
Ayup sent out the list among Uyghurs living overseas to ask people for names of those they recognized. Only eight out of 30 agreed to speak publicly. Ayup wished more had agreed to speak out. But he remains focused on documenting the lockdown of his people.
"We will win at the end, because we are on the side of justice," he said. "We are on the right side of history."
I'm John Russell. And I'm Ashley Thompson.