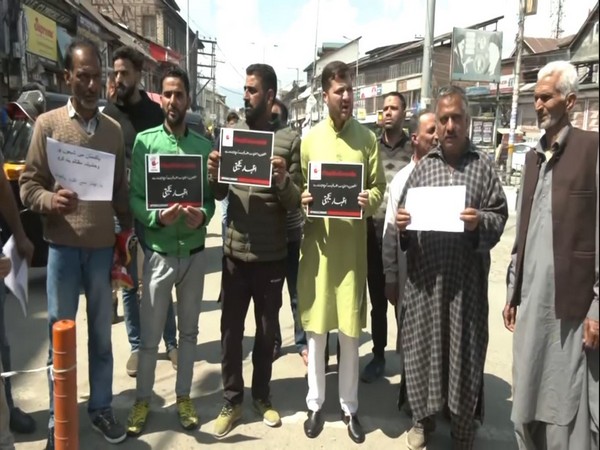 Srinagar (Jammu and Kashmir) [India], May 5: People of the Shia community in Kashmir held a protest on Friday here against the target killing of Shia teachers in Pakistan.
Several people from the Shia community staged protests in Alamgari Bazar, Zadibal area of Srinagar expressing anger against the targeted killings of the Shia community in Pakistan.
On Thursday, Tehreek-e-Taliban, an umbrella group of several Sunni Muslim terrorist groups, claimed responsibility for killing the Shia teachers in a government-run school in Pakistan. Seven teachers were killed in the Kurram district of Khyber Pakhtunkhwa province.
The protestors at Srinagar's Alamgari Bazar, Zadibal area alleged that Pakistan Government is behind the killings of Shia teachers as it has not taken any steps to stop such killings yet.
"Today we have gathered here to protest against the killings of seven Shai teachers. We stand in solidarity with them," one of the protestors said.
"Pakistani government is behind the attacks. Today we have gathered to show that we stand strong with the Shias of Pakistan," he added.
Similar protests were also held in Meri Bhari Dal Area of Srinagar.
Sajjad Kargili, a political activist tweeted, "Shia target killing is not new, the takfiri terrorists are roaming free and the security agencies in Pakistan are failing to ensure safety and security to the community. While sending my deepest condolences to the bereaved families, I strongly condemn this brutal attack".
Sajid Yousuf Shah, a writer and activist said, "The horrific killing of Shia teachers in Pakistan is a truly devastating sight. It's disheartening to witness the Pakistani state continually failing to provide security and justice to ethnic and religious minorities. We urge @BBhuttoZardari to speak up and take action. Let's condemn such senseless violence and stand up for human rights."
The tribal district has a majority Shi'ite population often attacked by Sunni militant groups from the local Taliban movement. Sunni militants regard Shi'ites as heretics.
Senge Sering, a political activist from Gilgit Baltistan condemned the incident and tweeted, "Mehdi Hassan was one of eight Shia teachers killed yesterday in Pakistan's Kurram district. The lives of his children will never be the same".
The incident came within a week of several attacks by terrorists, including an assault by a suicide bomber who drove into a military base camp just outside Pakistan's rugged, lawless tribal district, killing three soldiers.
The Pakistani Taliban have been behind attacks against the state that have become more frequent since last year after it revoked a ceasefire and peace talks with the government in Islamabad collapsed.
The government says the peace talks allowed the release of hundreds of militants and their leaders from prison, enabling them to regroup and launch fresh attacks.