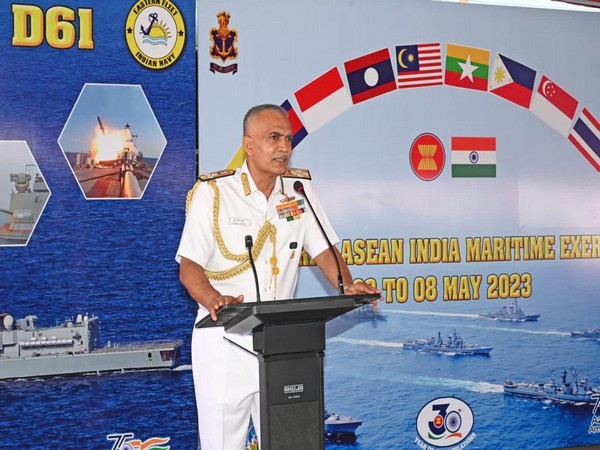 Singapore, May 2: Admiral R Hari Kumar, Chief of the Naval Staff, Indian Navy is on a three-day official visit to Singapore, from Tuesday.
During the visit the CNS co-officiated the inaugural ceremony of the maiden ASEAN – India Maritime Exercise (AIME) 2023, on Tuesday. The harbour phase of the exercise is scheduled to be held at Changi Naval Base from May 2 to 4, 2023 and the Sea Phase will be conducted from May 7-8, 2023 in the South China Sea.
In addition to representing India and the Indian Navy during the AIME 2023, Admiral R Hari Kumar will also be attending the opening ceremony of the International Maritime Defence Exhibition (IMDEX-23) and will deliver a talk on 'Cooperation and Collaboration in the Future Maritime Environment' during a panel discussion at 8th International Maritime Security Conference (IMSC), being conducted on the sidelines of IMDEX – 23.
Admiral R Hari Kumar, would also be calling on Minister for Defence, Singapore and would be interacting with the Chief of Defence Force (CDF), Singapore Armed Forces (SAF), Chief of Navy, Republic of Singapore Navy (RSN), other Navy Chiefs and Heads of Delegation from countries participating in the AIME, IMDEX and IMSC. CNS would be having an engagement with Academia in Singapore to discuss ASEAN – India Maritime Connect Opportunities.
Indian Naval Ships Satpura and Delhi with Rear Admiral Gurcharan Singh, the Flag Officer Commanding Eastern Fleet embarked on board have also arrived at Singapore on 01 May 2023 to participate in the ASEAN – India Maritime Exercise and IMDEX. The presence of these indigenously built ships of the Indian Navy at the multi-national events will be an opportunity to showcase the ship-building capabilities of Indian Shipyards.
The visit of the CNS signifies high level of bilateral defence engagements with Singapore as well as India's recognition of 'ASEAN Centrality' to the region. Participation of the Indian Navy in the inaugural ASEAN – India Maritime Exercise is therefore a milestone event in this context.