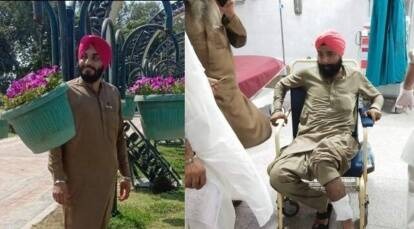 Even as a grocery store owner, Manmohan Singh, was killed in a firing by unknown armed motorcyclists in Yakatoot area of Peshawar on Saturday, incidents of targeted killings of minorities, including Hindus, Sikhs and Christians being tortured and assaulted in Pakistan, have surfaced.
Singh's was the third attack on a Sikh community member this year in Pakistan.
On Friday, a Sikh shopkeeper, identified as Tarlok Singh, was shot at by unidentified men. He suffered injuries.
Last month, assailants gunned down Sardar Singh in a passer-by shooting in the eastern city of Lahore. Sardar Singh received a fatal gunshot to the head.
Manmohan Singh ran a grocery store in Rashid Garhi in Peshawar and was the sole breadwinner for his family, United Sikhs, a humanitarian group, said on Twitter.
According to Pakistan police, a few suspects and suspicious persons have been arrested.
A special team has been formed under the leadership of SSP Operation Haroon Rashid Khan to find the accused.
Around 300 Sikh families, mostly Pashtun Sikh, are currently living in colonies in Peshawar. The community members have been living under the constant threat of violence as they have been targeted by gunmen in the recent years.