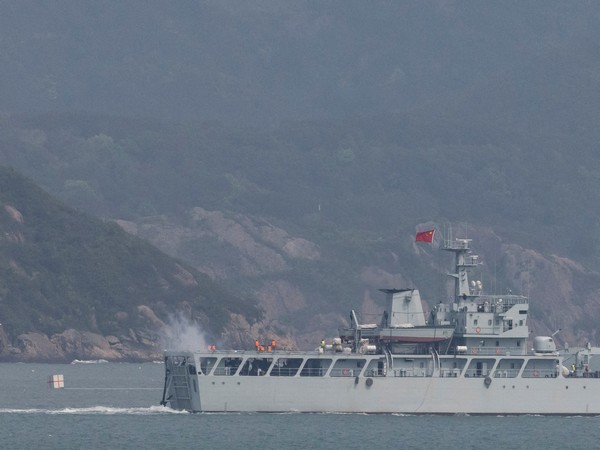 Taipei [Taiwan], April 9: Taiwan will fight to defend and protect the home together, the country's National Defence Ministry said as it detected multiple China aircraft encircling the island country.
Taking to Twitter, Taiwan's Ministry of National Defence said, "#Taiwan is our homeland, and no matter where we go or what we encounter, she is always charming and beautiful. Every story on this land is etched in our memories. We, #ROCArmedForces, are fighting with all our heart to defend our homeland and to protect our home together."
Earlier on Sunday, Taiwan tracked 71 Chinese military aircraft, and 9 naval ships by 6 am. It looks like China started its second day of the drills around Taiwan.
"45 of the detected aircraft(SU-30*8, J-11*4, J-10*16, J-16*10, TB-001 UCAV, Y-9EW, Y-8 ASW, H-6K*2, Y-20, KJ-500) had crossed the median line of the Taiwan Strait and entered Taiwan's southwest ADIZ, flight paths as illustrated," the Ministry said.
China, which claims democratically governed Taiwan as its own territory, began three days of military exercises around the island on Saturday, the day after President Tsai Ing-wen returned to Taipei from Los Angeles, where she met with US House of Representatives Speaker Kevin McCarthy.
The ministry also issued a photo taken from the Cheng Kung-class Chang Chien missile frigate showing Navy officers monitoring the movements of China's Ma'anshan frigate.
The military said it tasked aircraft in Combat Air Patrols (CAP) and naval vessels while deploying land-based air defence missile systems to monitor the activities of the Chinese military ships and aircraft.
The MND, while accusing China of causing regional insecurity and instability, said the armed forces would increase their vigilance and readiness, but would stay away from provocations and raising tension.
Taiwan lodged a protest against Chinese military drills around Taiwan, saying that the country would not yield to threats.