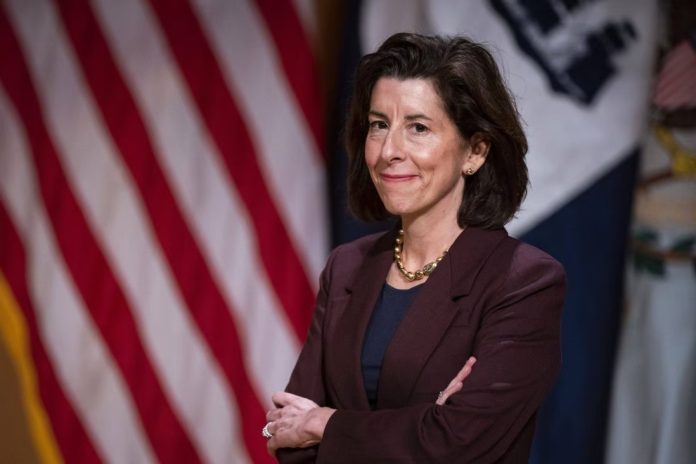 Chinese ambassador to the United States Xie Feng on Tuesday highlighted the need to "overcome difficulties together in the same boat" as he set the tone and agenda for US Commerce Secretary Gina Raimondo's official visit to China.
He demanded the US "pay high attention" to the Chinese stance on bilateral commercial issues and raised hopes that both sides could expand areas of cooperation and "shorten the negative list", according to an embassy readout.
Beijing and Washington announced the senior official's long-anticipated trip on Tuesday, the same day Xie and Raimondo met. Raimondo's four-day visit will begin on Sunday.
Xie told Raimondo that "the world today is full of changes and chaos while the world economy faces a weak recovery and unpredictable crises in multiple aspects".
"As China and the US belong to the same planet and share the same blue sky, we are in the same boat and are not immune [to the situation]. We should not harm each other for the benefit of one side but should overcome difficulties together," Xie said in the meeting, which he described as "in-depth, pragmatic, and constructive".
The two officials also discussed "challenges faced by US businesses and areas for potential cooperation", according to the US commerce department.
The Tuesday meeting gave a preview of the priorities for Raimondo's trip to Beijing and Shanghai, where she will meet senior Chinese officials and US business leaders.
During the trip, Raimondo is expected to raise concerns over the lack of transparency in Chinese economic and national security data and explain the rationale behind recent outbound investment restrictions the US imposed on China.
Earlier this month, US President Joe Biden signed an executive order to restrict US venture capital and private equity investments in Chinese companies involved in hi-tech fields, prompting Beijing to "assess the impact and take necessary measures".
Despite the tensions, Raimondo's visit will be the fourth China trip by a top US official this summer, increasing the likelihood that Biden and Chinese President Xi Jinping will meet on the sidelines of the Asia-Pacific Economic Cooperation meeting in November.
On Monday, US commerce officials announced the removal of 27 Chinese entities from its unverified list. Companies on the list face stricter scrutiny before they can do business with US suppliers.
The Chinese foreign ministry said the move showed "the two sides can address specific concerns through communication, based on mutual respect".
But US-China trade remains tangled by a series of export control measures – especially those on semiconductors and the raw materials used to make them – and disputes at the World Trade Organization.