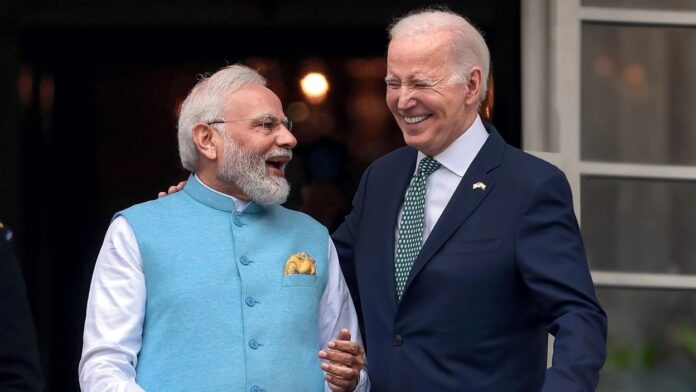 FOR A BILATERAL relationship that got a second life with the India-U.S. civil nuclear deal — almost a decade after U.S. sanctions for 1998 nuclear tests — the India-U.S. partnership has come a long way.
The outcome of the just-concluded official state visit of Prime Minister Narendra Modi to the U.S. during June 21-23 is proof of its evolving nature. Bilateral partnerships across sectors — trade, health, education, human resources, clean energy, defence, geo-politics and more, with commitments for technology collaborations — sums up its essence. A joint statement issued by the U.S. and India said that Modi and U.S. President Joseph R. Biden have laid out "the most expansive and comprehensive vision for progress in the history of India-U.S. bilateral relationship".
For Indian and U.S. businesses, this means a lot. As apex industry chamber, CII notes, the bilateral agreements during Modi's visit will result in technology transfer that enables India to manufacture jet engines (an MoU was signed between General Electric and Hindustan Aeronautics. for the manufacture of GE F-414 jet engines in India for HAL's Combat Aircraft Mk 2), will create innovative investment platforms to finance India's climate transition, aid research in vaccines, diagnostics and medicines, and result in more collaborations in space sciences, especially in technologies such as sensotronics, data analytics, high-tech supply chain and 6G (spectrum). The joint roadmap for R&D will create business opportunities in advanced material technologies, including rare earths, graphene, nano materials and lithium.
There is some relief for the Indian IT services sector, too. The joint statement talks about a pilot project meant to adjudicate domestic renewals of certain petition-based temporary work visas, with an aim to implement this for an expanded pool of H1B and L visa holders in 2024, eventually broadening the programme to include other eligible categories.
On the health front, there is a plan to hold a U.S.-India Cancer Dialogue, hosted by President Biden's Cancer Moonshot, and bring experts together from both countries to identify areas of collaboration and accelerate the rate of progress against cancer.
Meanwhile, U.S.-based Micron Technology, one of the world's largest semiconductor companies, has announced plans to build a new assembly and test facility in Gujarat. An investment of up to $825 million to create up to 5,000 direct jobs and 15,000 community jobs is in the pipeline.
While most of these plans are futuristic, there are some that can result in short-term results, too. For instance, the decision to resolve six outstanding WTO disputes between the two countries through mutually agreed solutions. Commerce minister Piyush Goyal has called it a historic decision as the U.S., as part of the agreement, has decided to grant market access to steel and aluminium products. "As part of the market access, going forward, the U.S. Department of Commerce will clear 70% of steel and 80% of aluminium applications for products originating in India… It would help raise India's steel and aluminium exports by 35%," he said.
For the U.S. industry, the decision to withdraw retaliatory tariff measures will see India removing additional duties on U.S. agri products, including chickpeas, lentils, almonds, walnuts, apples, boric acid, and diagnostic reagents.
The scope of the benefits of the Modi-Biden meetings for bilateral collaboration is huge, but immediate gains remain a question.