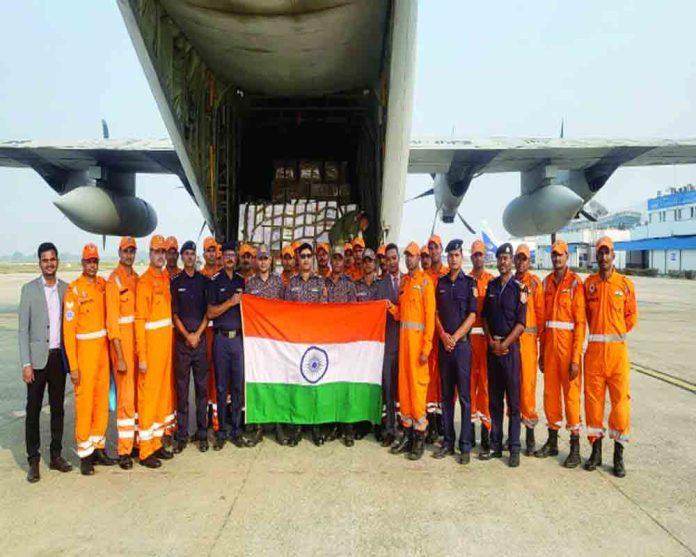 My neighbour in Ram Vihar, on seeing me all packed and cheerful over my holiday enquired where I was headed. "To escape Delhi's smog, I am off to Nepal" I replied. "But Nepal is reverberating with earthquakes" he said, referring to two massive tremors (magnitude 6.3 and below) on 4 and 6 November in Jajarkot and Rukum West which demolished most of the kaccha homes and those that remained developed cracks. Earlier, on 3 October, a 6.3 magnitude earthquake struck
Nearby Bhajang even as Nepal has still not fully recovered from the 7.8 magnitude 2015 Gorkha earthquake centred in Barpak which destroyed many parts of Kathmandu valley. The 8.0 earthquake of 1934 is forgotten as there are few of that period living. The Gorkha earthquake caused 3800 fatalities affecting 31 of the 75 districts resulting in a loss of more than USD1 bn. Like in 2015, India's response to the latest tragedy – as I write from Lameahal, Pokhara 250 km east of Jajarkot – is stellar and continuing. In 2015, the Indian Army and Air Force contribution was in the class worthy of a Nobel Peace Prize. Then Nepal Army Chief, Gen Gaurav Rana, publicly acknowledged the lead role played by the Indian Army.
India is able to become virtually the first responder due to its elaborate network of pension-paying offices in Kathmandu, Pokhara, Dharan and Butawal (shortly). The commanders of these assets belong to the Gorkha battalions of the Indian Army, familiar with the local language, terrain and culture – enabled by a trekking programme of young Gorkha officers begun in 1970 by Army Chief Gen Sam Manekshaw, better known here as Sam Bahadur. Many of these facilities have been created by the Indian Embassy and Defence Wing Kathmandu like the 28 District Soldiers Board, seasonal pension camps established across the country and visits by senior Indian Army officers.
This month alone, Adjutant General, Lt Gen Bansi Ponappa and Director General Recruiting (although Agniveer is suspended here) Lt Gen Sarna, visited Nepal. Education and medical facilities are growing rapidly with ECHS nodes and Kendriya Vidyalayas. The British who are the pioneers in recruiting Gorkhas, although shrunk in size from 44 Gorkha battalions at the end of World War II to three battalions now, have also helped in the Jajarkot earthquake. China wants to be seen as a friend in need and play a role in disaster mitigation.
When I landed on 9 November at China-constructed Pokhara International Airport which, like the Matala airport in Sri Lanka is becoming a white elephant, Inspector Keshav Thapa of Nepal Police said only four international flights, and that too from China (two chartered for tourists and two for Jajarkot earthquake relief) have landed here since the inauguration of the airport six months ago. Pivotal to the Jajarkot assistance programme is Lt Col Prashant Baghel, Pension Paying Officer Pokhara who established a relief headquarters in Jajarkot with his PPO staff and a team of Gorkha ex-servicemen. The government of Nepal's "single route-policy" of disaster assistance (presumably after the shemozzle during the Gorkha earthquake) requires all relief material to be handed over to Nepalese officials, in this case, the Chief District Officer of Jajarkot. Baghel took along with him Rs 15 lakh worth of immediate assistance material and returned on 11 November. His job was to assess the damage and direct relief material.
Col Amit Sharma, the Defence Advisor in Kathmandu said on 11 November, that 35 tonnes of relief material had been delivered to Nepal by three IAF aircraft in Nepalgunj airport ( some aircraft brought additional supplies to Kathmandu). He said he had employed Gorkha ex-servicemen to assist in various relief activities for the injured and other displaced victims. Fatalities in Jajarkot were 157 with thousands hurt. 10 lakh persons had been provided food and succour. Only four serving Gorkhas were affected by the earthquake as few were recruited from this remote region which was the epicentre of the 10-year-long Maoist insurgency beginning in 1996. The noted columnist of Kathmandu Post, CK Lal, in his 8 November column has written on lessons from Jajarkot advocating that "Government must discourage disaster tourism for domestic and international do-gooders". He does not include India in this category. India's Defence Wing has shown it can rise to the occasion.
The relentless good work done by India-created facilities for Gorkha ex-servicemen over the years should inspire the Nepal government to reconsider its decision to suspend/reject Agniveers' truncated terms of engagement, devoid of pension. Agniveer is indeed deeply flawed but Kathmandu should allow temporary recruitment as a test bed till outcomes fructify. At the rate both governments are silent on breaking the Agniveer impasse, the end of the Gorkha Brigade is not far off. Also, the end will be all assets available for emergency relief. I was informed that when the Nepali Congress leads the alliance government it may take a more positive view of Agniveer. Gen Prabhu Sharma, the outgoing Nepal Army Chief is reported to have said: "I am not against Gorkha recruitment in the Indian Army. But I am against Agniveer".
It is the festive season in Nepal following the week of Dussehra. Today is Tihar (Bhai Tika) after four days of happy pujas venerating the kag (crow), kukur( dog),gai( cow) and of course, Lakshmi puja. The high point is Tika Tihar as Nepal goes delirious playing Bhaillo (dancing) putting aside Jajarkot.