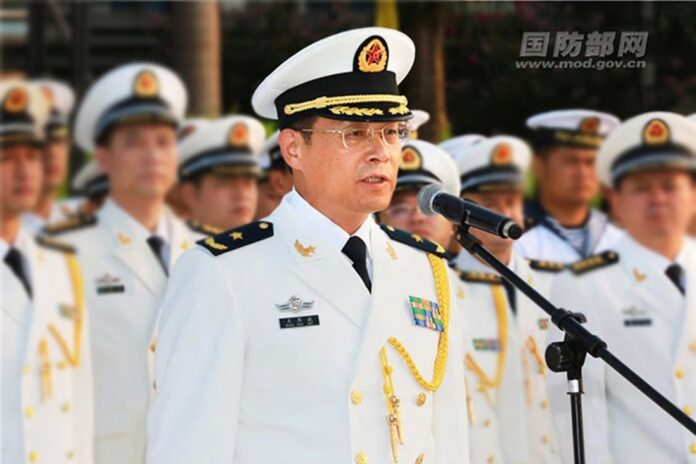 Beijing has appointed a new leadership for the force responsible for its nuclear arsenal after its former commanders were snared in an anti-corruption campaign.
Wang Houbin, the navy's former deputy commander, will become the new head of the People's Liberation Army Rocket Force, while Xu Xisheng will move from Southern Theatre Command to become its new political commissar, state broadcaster CCTV reported.
Their appointments were announced as both Wang and Xu were promoted from the rank of lieutenant general to full general at a ceremony on Monday. Neither general has served with the force before.
The Central Military Commission's anti-corruption unit is currently investigating the force's former commander Li Yuchao, as well as his current and former deputies Zhang Zhenzhong and Liu Guangbin, military sources told the South China Morning Post last week.
There have been no public announcements about any investigation into the trio, but they are believed to have been taken away by investigators.
It is extremely rare for President Xi Jinping, the head of the CMC, to replace a fighting force's commander and its political chief at the same time.
However, a similar change was made to the People's Armed Police in December 2014, months after it was announced that former security chief Zhou Yongkang had been accused of corruption.
Zhou, a former member of the Politburo Standing Committee, is the most senior official to be purged under Xi's sweeping crackdown on corruption. He was jailed for life in 2015.
Xi last week urged the military to step up its efforts to tackle corruption along with its modernisation drive during a speech at an air force base in Sichuan ahead of the PLA's anniversary on Tuesday.
"We need to push forward the party's strict discipline and anti-corruption efforts to a deeper level," Xi said, according to CCTV.
Rocket Force is the key element of the country's nuclear deterrence strategy and Beijing's efforts to ramp up military pressure on Taiwan.
The decision to move Wang from the PLA Navy to the Rocket Force is unprecedented, but defence analysts said it reflected the PLA's confidence in its hybrid warfare abilities.
In recent years the PLA has been working to improve its air, land and sea-based nuclear systems – the so-called nuclear triad – as part of a drive to ensure all combat wings can operate together.
"It's not a problem for a naval commander to head the rocket force, because the PLA navy also needs to take care of strategic nuclear weapons," said Zhou Chenming, a researcher with the Beijing-based Yuan Wang military science and technology think tank.
"In today's modern warfare, all senior commanders in the navy, ground and air force need to be trained [in hybrid warfare]," said Ni Lexiong, a military analyst at the Department of Political Science at Shanghai University of Political and Law.
"Indeed, if the former Rocket Force senior commanders were ruined by collective corruption, it's a wise decision to replace them with an 'new blood' leadership that will prevent future misconduct."