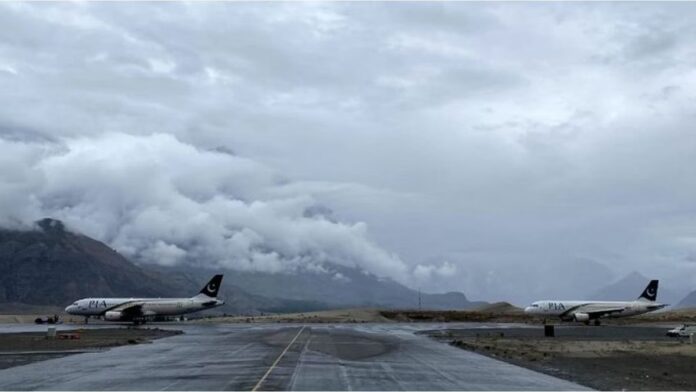 The safety of planes flying over Pakistan has become a contentious issue. Days after the European Union Aviation Safety Agency warned operators of "high risk" while flying at low altitudes over Karachi and Lahore, the government responded with an all clear assessment. The Pakistan Civil Aviation Authority, late Sunday night, announced that the country's airspace is "safe".
In its alert on 28 July, the European agency had advised aircraft not to fly below flight level (FL) 260 meteors or 26,000 feet in face of "the current security situation in Pakistan with the presence of violent non-state actors with confirmed anti-aviation weaponry, possibly MANPADS (man-portable air-defence systems)".
It also stated that the Kashmir region is a site of a territorial dispute with sporadic military operations posing a potential inadvertent risk to civil aviation due to a potential risk for misidentification in case of military escalation, particularly in the Lahore region.
However, CEO of Aircraft Owners and Operators Association, Pakistan Imran Aslam Khan rejected the EASA advisory claiming that Pakistani airports are safe for landings of all flights.
"Pakistan airspace is 100 per cent safe and protected against any intrusions," said Khan.
EASA's advisory will remain valid till 31 January 2024, but it is non-binding. The announcement comes days after the national carrier, Pakistan International Airlines, cleared an initial remote safety audit.
The county's national carrier is expected to be allowed to resume direct flights to European countries after a gap of nearly three years. A visit to Pakistan by the delegation of Aviation Safety Agency is scheduled for September this year for a physical audit to review a ban on PIA flights to Europe. A ban on direct flights to Europe from Pakistan was imposed in 2020. This was enforced after it was revealed that nearly a third of Pakistani pilots had cheated during their pilot's exams.
The latest advisory on flight altitudes is not the first time such warnings have been sounded. Similar advisories were issued by WHOM to French and German air operators last year, recommending all operators to not to fly below 24,000 feet and to 'exercise extreme caution' when flying over the country.
A Spokesperson of the PCAA said that Pakistan was not informed of any such security threat to European airlines, according to news reports.
Khawaja Saad Rafique, the aviation minister, however, has not responded to the advisory yet.
Mustafa Abdullah Baloch, a political Analyst and son of Abdullah Baloch, founder leader of PPP (Pakistan People's Party), expressed his concerns over the news and requested the authority to take the requisite precautionary measures.