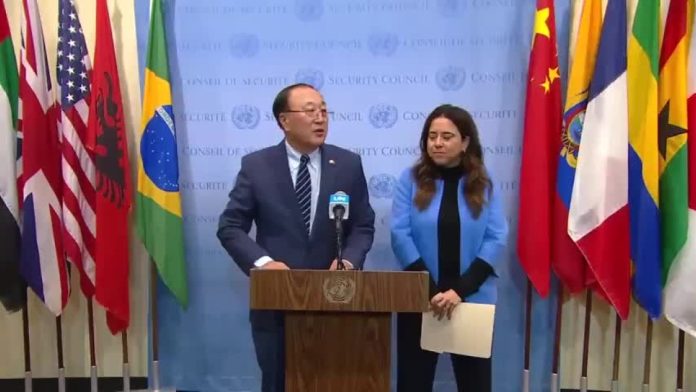 China has failed to take on a central role over the war between Israel and Hamas as it pursues other interests in the Middle East such as trying to secure a new military base, the former head of Israel's Mossad foreign intelligence agency told.
China holds the rotating presidency of the U.N. Security Council through November.
"This should have given it the opportunity to be very, very active and very prominent in the way the international community is reacting" Efraim Halevy said from Tel Aviv.
"This opportunity of using the current outburst of war in the Middle East has not seen an attempt by China to jump into the fray. Very not so," said Halevy, who served for 40 years in the Mossad, Israel's international intelligence agency, leading the organisation and Israel's National Security Council from 1998-2002.
China's comments on Gaza, where it failed to condemn the October 7 Hamas attacks at the start of the latest round of conflict, have come as a disappointment to Israel after years of apparently warming ties during which Israeli officials pushed to deepen economic, scientific and technology cooperation and to allow Chinese investment in high-tech start ups and the major port of Haifa. The closer links on technology had even alarmed Israel's U.S. ally.
At least 1,200 Israelis were killed in the Hamas attacks, while more than 11,200 Palestinians have been killed in Gaza in Israel's subsequent military operation, according to Palestinian officials cited by the Associated Press.
China had not said anything of consequence on the horrors of the Hamas attack, Halevy said.
"Although China has full diplomatic relations with Israel, it does not express themself with in any way regret around the loss of life, but also the brutal way in which people found their lives extinguished," Halevy said.
China's profile has been growing in the Middle East and around the world, as it plans its global rise that aims to equal or outdo the U.S. in multiple spheres, including diplomatic and strategic, by 2049.
But China has not been hugely vocal on Gaza, although it called for a ceasefire early on and for talks on a two-state solution between Israel and the Palestinians, with whom it traditionally had good relations for decades.
China's response differed starkly not only from the support for Israel from its traditional U.S. ally, but also China's Asian rival, India, whose Prime Minister Narendra Modi said "we stand in solidarity with Israel" immediately after the Hamas attacks.
Halevy also contrasted China's response on Gaza to the more overt opposition to Israel's position from Russia and to the strong moves by the United States in support of Israel under President Joe Biden.
"Russia certainly has placed itself at the side of Hamas in this present war. And China has, if you compare the two, I think unexpectedly maybe in a way, has not come out so very, very prominently, as Russia has, for example," he said.
"President Biden has been here and has moved two aircraft carriers into the Mediterranean, and with all the attendant sea craft which always are accompanying an aircraft carrier. But China has not done anything to enter the Mediterranean in one way or another, or to make it presence felt."
Halevy said China instead was focusing on a longer-term regional goal and that this could have a peripheral influence on the situation in Gaza.
"China is trying to find ways and means of establishing a military presence in Oman," he said, referring to the country at the southern tip of the Arabian Peninsula near the Persian Gulf.
Gradual
"China seems to be advancing, carrying out its gradual extension of its international posture. It is measured, it is very, very quiet in the way it is carried out," Halevy said, while noting that no deal had been done yet and that the U.S. would likely be unhappy with a Chinese naval base in Oman given the Fifth Fleet's presence in Qatar and Bahrain.
It would be China's second military base in the broader region after Djibouti at the southern tip of the Red Sea. China has also been building a naval base at Ream in Cambodia, which says it is for its own navy. Beijing is looking to set up other facilities in southern and western Africa, the South Pacific and elsewhere.
China has denied media reports that it is seeking to set up a base in Oman, possibly in the port of Duqm on the southern coast. But it has already established a trading zone in Barka near the capital Muscat in the north. Two-way trade has risen fast in recent years mirroring the establishment of the base in Djibouti, where China's flag followed trade.
In a sign of increasingly close relations with Oman, in the week after the attack on Israel, China and Oman held joint military exercises during which a Chinese naval commander called on Omani military officials and visited military institutions.
The task force left Oman on Oct. 14th but exercises continued with the guided missile destroyer Zibo and guided missile frigate Jingzhou from the Chinese side, and the patrol ship Al Said from the Omani side, the military website reported.
Halevy said China's approach in Djibouti had also been slow as it expanded over several years to what is now a 2,000 strong base with the port facilities to berth aircraft carriers. He said Israel was following this from afar, while noting that the southern tip of Israel at the port of Eilat was also on the Red Sea.
"China is moving in a very, very, very orchestrated manner, we could call it, but they're doing it in a way, which does not immediately arouse great concerns or great counter activities of any serious kind," he said.
In addition to securing Middle Eastern countries as members of China's "Belt and Road Initiative" for economic development, in 2021 China emerged as a bigger regional player, signing a 25-year "Cooperation Program" with Iran, from whom it buys oil, and in March brokering the normalization of ties between Iran and Saudi Arabia, once bitter rivals.
Halevy said Israel itself hoped to pick up negotiations with Saudi Arabia on establishing relations after the war in Gaza, but was also optimistic that there would be change in Iran given the reported ill-health of 84-year-old Supreme Leader Ali Khameini.
"There is no reason for Israel and Iran, per se, as countries to be enemies, we don't have a common border. In the past, we had very good relations with many people in Iran. I myself was in Iran many, many times before the change of regime. And I think there is a lot of goodwill in Iran, towards Israeli Israelis, which could come to the fore," he said.
"This does not mean that overnight it would be different, the relationship with Israel and Iran. But we are now on the verge of a change in Iran."
Halevy said that despite China's close ties to Iran, which backs both Hamas and the Hezbollah militia in Lebanon on Israel's northern border, he did not believe Iran would become heavily involved in the current war. Nor was China equipping Iran with cutting edge technologies or weaponry to do so, he said.
"Maybe in the intelligence field they exchange information. That's certainly possible," Halevy said.
Military power was not the only way China was measuring its influence, Halevy said.
"I think China is looking to the point where it would think that if they could attain a final, shall we say, crowning of China, as being one of the two major powers in the world, I think they would not necessarily wish this should be counted in terms of how many aircraft carriers, carriers you have," he said.