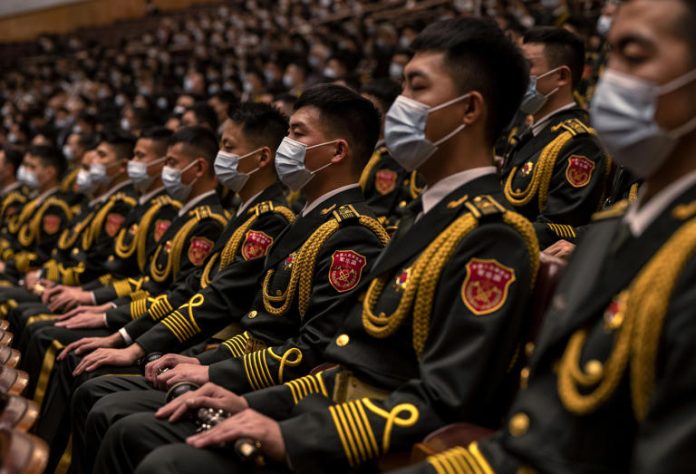 China is struggling to fill the ranks with its military branches despite increased efforts to attract new recruits, job ads suggest.
On WeChat, a Chinese do-everything app, recruitment messages seek both young and middle-aged recruits for active duty officer and administrative roles within the People's Liberation Army, promising "better benefits" than those enjoyed by civil servants.
On the border with India, PLA soldiers were seen enjoying hot pot and playing video games while stationed in the inhospitable Himalayan environment, according to state media footage carried by military networks.
The propaganda videos sought to reassure parents that their sons and daughters would be taken care of when deployed in the field. China's PLA-linked state media accounts now curate daily content about the lives of serving military personnel in a quest to boost recruitment numbers and reassure single-child families.
China's struggle to attract talent has been attributed to two factors: China's generations-long family-planning regime known as the one-child policy, although now scrapped, has left parents cautious about sending their only child to the military, where they could potentially experience war, according to a research report by Loro Horta for Singapore's S. Rajaratnam School of International Studies.
Salaries were another factor—benefits offered by the private sector in China were far more attractive than the incentives to serve the state, Horta observed.
The PLA is now offering lucrative contracts to boost the falling recruitment rate, with the view that sustaining a sizable force will have direct implications for Beijing's ongoing military modernization—as well as its designs on territories including Taiwan.
"We will offer 'five insurances and one fund,' which cover a pension, medical insurance, work injury, unemployment insurance, maternity pay and a housing fund," said an advertisement by the National University of Defense Technology, a public research institute.
The PLA Air Force offers about $1,500 per month for professional and technical roles filled by individuals with an undergraduate degree, and around $1,640 per month to those with a graduate degree, a WeChat post said.
In the Chinese air force, recruits with a positive annual service assessment stand to earn a 10 percent bonus on top of their salary, according to an online recruitment post, a sign of the military's steadily rising average salaries in recent years in order to match private sector wages.
However, the PLA's troubled recruitment of both active duty officers and civilians runs deep, according to available research. China's military is now conducting two recruitment drives per year, up from one, according to a BluePath Labs consultancy report prepared for the U.S.-China Economic and Security Review Commission.
China has adopted a "twice a year and two retirements" model to create a more balanced military service, which was earlier plagued by the departure of two-year conscripts, the report said. Half of the conscripts, roughly 35 percent of the total conscripted forces, previously experienced a turnover each year, impacting PLA's training in the past.
"Most significantly, in 2020, the PLA shifted from a single conscription cycle per year to two cycles per year, with the aim of eliminating uneven levels of unit combat-readiness at certain times of the year," BluePath Labs said.
The PLA ended an upskilling program after it failed to train officers at civil academic institutions, compounding the military's struggles in its search for educated talent, according to the report.
The Chinese military, meanwhile, remains heavily invested in filling civilian roles, which are sold to the public for their job security, with little chance of experiencing actual combat.
"Those who pass the exam will be admitted to the military establishment, with more than 30,000 positions to choose from," a military ad said this year.
At least one PLA officer believed Beijing needed to do more to improve the recruitment and retention of officers.
"We need to do a lot more work, including changes to the recruitment system and making sure that people can develop after serving," Maj. Gen. Tang Yongsheng of the PLA's National Defense University told..